Spring into Summer With New Lower Prices
It has been a bit of an odd spring. Relative temperature and precipitation extremes were endured in many areas of the country. Hotter and dryer then average in some areas with heavy rains & flooding in others. Heck, they even had a measurable snow fall in Denver just before Memorial Day Weekend!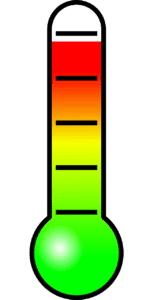 And now summer heat has already started to kick in. Triple digits expected in southern Texas this weekend and even into the high 80's in parts of the upper Midwest.
For online nurseries that ship nationwide, the weather has created a lot of challenges. Plants making up to a 5-day trip in a dark box that may endure extreme temperatures is not good for anyone. This creates unexpected shipping delays, unhappy customers and stressed plants.
Numerous nurseries we have spoken to recently have had erratic spring sales.  Some trees & shrubs that are annual best-sellers have seen struggling sales.  Others plants have sold out faster than expected.
Keeping container trees & shrubs healthy and alive in summer can be expensive for nurseries. This is why you see a lot of sales and lower prices this time of year. June is their short window to drop their inventory as much as they can before it gets too hot.
As Temperatures Go Up, Prices Come Down
Ultimately, for you, this means there are some good deals to be found.  We've listed below most of the evergreen trees & shrubs that some of our top-rated nurseries have new, lower prices.
If you are still considering adding some evergreen trees or shrubs to your landscape, now may be the best time to order. Below is a list of evergreen trees & shrubs that have some lower prices. You can click on any product to view the lowest prices offered by our top rated online nurseries.
Quantities are usually pretty limited this time of year. Most trees and shrubs that go out of stock won't be back until the fall.
Also make sure to check back frequently. Sales usually change once or twice a week to feature specific tree or shrub varieties. We will keep this updated as sales and discounts change. 
Most Recent Price Drops
Last updated: September 4, 2019
Click on any product to view the lowest prices from top rated online nurseries. Prices are updated hourly.
Please follow and like us: