Blue Prince & Princess Combo Holly for sale from top rated online plant nurseries. Prices are updated daily. Clicking 'Shop Now' will open a new tab to the website listed.
Description
Most every female holly variety needs a male variety for pollination. This is to be able to enjoy the beautiful red winter holly berries. What better way to ensure getting the most berries then getting a male & female together in one container.  That's what these are. A Blue Prince and Blue Princess Holly grown together. Two separate plants in one container.
Blue Princess & Blue Prince Hollies are pretty easy to grow. Plant them in any area that can get full sun to partial shade. They are deer resistant and have no known pest or disease problems. These Blue Hollies are cold hardy to Grow Zone 4, or down to minus 30 degrees. New growth starts out a brighter green but eventually transitions to have a slightly bluish tint, thus the names.  Blue Princess Holly and Blue Prince Holly shrubs are deer resistant and can thrive in most soil conditions, even damp soil as long as it drains well. The roots will be susceptible to root rot if they are in standing water.
Growth rate for Blue Princess & Prince hollies is considered moderate. They can handle pretty heavy pruning if you want to keep them at a certain height or width.
| | |
| --- | --- |
| Mature Height: | 8-10 feet |
| Mature Width: | 6 to 8 feet |
| Sunlight: | Full sun to partial shade |
| Soil Conditions: | Damp soil preferred but well drained |
| Drought Tolerance: | Low |
| Botanical Name: | Ilex x meserveae 'Blue Prince' + 'Blue Princess' |
| Grow Zones: | 6 to 9 |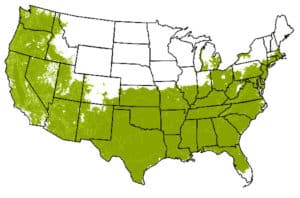 USDA Hardiness Zones 6 to 9