Description
Classic Holly With Glossy Leaves & Bright Red Winter Berries
Castle Spire is a variety of blue Holly introduced by Proven Winners®. It is bred to have superior branching and even more glossy green leaves. The foliage really stands out in winter. Castle Spire Hollies can grow up to 10 feet but have a slow growth rate; Roughly 6 inches per year.  Castle Spire Hollies can grow well in sun and shade but it's best to avoid full shade.  It's popular for people who want to enjoy hollies but don't have a lot of space.
Popular uses include hedges, along foundations or as a single specimens in your yard. 
Castle Spire® Blue Holly prices are updated daily. Clicking on a 'Shop Now' button will open a new tab to the website listed.
Castle Spire® Blue Holly Plant Facts:
| | |
| --- | --- |
| Botanical Name | Ilex x meserveae 'Hachfee' |
| Foliage | Dark Green |
| Mature Height | 8 – 10 feet |
| Mature Spread | 3 – 4 feet |
| Soil Type | Widely Adaptable |
| Sun Exposure | Full Sun, Partial Sun |
| Growth Rate | Slow |
| Grow Zones | 5 to 7 |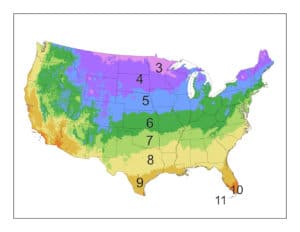 USDA Hardiness Zone Map
Castle Spire® Blue Holly

Frequently Asked Questions:
How fast does Castle Spire Holly grow?
Castle Spire Holly is considered to have a slow growth rate. Expect 6 inches or less growth per year.
How and when do you prune Castle Spire Holly?
New growth will be a slightly lighter green color, it's hard to miss. It is safe to prune new growth any time during the year. Typically Castle Spire Holly grow in a natural pyramidal form. It is okay to prune of the leaders, or tops of the shrubs in early spring and again in late fall if you wish to keep the holly shrubs to a specific, uniform height.