Free Ship $130+

Free Ship $125+

Description
A Proven Winners Color Choice, Thuja Tater Tot is one of the most compact dwarf arborvitae evergreen shrubs. Tater Tot Arborvitae only gets 1 to 2 feet tall & wide. It has dense green foliage and prefers full sun to part shade.Tater Tot shrub is a perfect small, soft, globe shaped evergreen shrub to line your walkway or driveway. It can also be used in foundation plantings. Use Tiny Tot to create depth  & different heights when planted in front of taller foundation plants.
Thuja Tater Tot Spacing
Tater Tot would work well as a border along a walkway, driveway, even around a natural area. Space them about 12 inches apart when planting. Plant them at least 2 feet from your home to allow for proper air circulation.
Tater Tot Arborvitae Care
Tater Tot shrubs prefer moist soil but it must drain well.  You risk root rot if the soil stays wet for too long. Mulching around the base of the shrub help retain moisture and prevent drying out too fast.  Since Tater Tot is so compact, it rarely needs pruning.  If you do want to prune your Tater Tot shrubs, do so in spring right after new growth emerges.
| | |
| --- | --- |
| Brand | Proven Winners Color Choice |
| Botanical Name | Thuja occidentalis 'SMNTOBAB' USPPAF, Can PBRAF |
| Grow Zones | 3 to 7 |
| Mature Height | 1 – 2 feet |
| Mature Spread | 1 – 2 feet |
| Soil Type | Well drained |
| Moisture | Medium |
| Sun Exposure | Full Sun, Partial Sun |
| Growth Rate | Slow |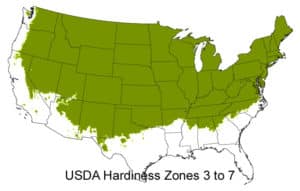 Tater Tot Arborvitae Frequently Asked Questions
Are Tater Tot Arborvitae fast growing?
No. Tater Tot are considered slow growing. Expect no more than 6 inches of new growth per year.
Can tater Tot Arborvitae grow well in shady areas?
Tater Tot Arborvitae grow best in full to partial sun. They can handle some shady areas, like under a shade tree, as long as they get some direct sunlight during the day.
Is Thuja Tater Tot deer resistant?
As with most arborvitae trees and shrubs, Tater Tot is deer resistant. Keep in mind this does not mean deer proof. Few evergreens are. If hungry enough, deer could nibble on the foliage but thuja's are definitely not at the top of the menu choices.
About our price comparisons:
We strive to compare prices from online nurseries that we have experienced send the highest quality plants at the lowest prices. We worked for 3 of the largest online nurseries for 10 years. We have also either visited (to evaluate) or ordered from over 30 nurseries & garden centers. Keep in mind that we may receive commissions when you click our links and make purchases. However, this does not impact our reviews, price comparisons or the price you pay. We try our best to keep things fair and balanced, in order to help you make the best choices.