We just finished our monthly review and updated ranking, rating & grade for each of them. You can review the latest rankings here.
There was more of a shake up then we anticipated. In the middle of the busiest time of the year 3 online nurseries rolled out significant changes to their websites. In our opinion two of the websites were an improvement. Unfortunately one website, in our opinion, made things worse. 
For a record 8th month in a row Garden Crossings claims the #1 position in our rankings.  They do have more perennials and annuals than evergreens. In fact, they are one of our highest rated online nurseries for perennials and annuals. But they make sure you're receiving good plant material, their prices are reasonable and they have one of the best return policies we have seen.
You can review the latest update to the ratings & rankings here: https://www.buyevergreenshrubs.com/online-nursery-review-ratings/ You'll also find links for a detailed review on each nursery.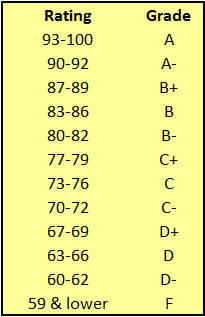 We update our reviews & ratings in the middle of each month. We rank each nursery on 10 different factors. You can read more about how we rate and grade nurseries here.
Having worked in upper management for 3 of the largest online plant nurseries for 10 years gives me a unique perspective.  It gives me an advantage to hopefully help you make good decisions on what to buy and where.
From providing insight on a nurseries reputation within the industry, to spelling out in plain English a websites terms & conditions. Our goal is to help guide you so you feel comfortable you are buying the right plants, from the right nursery at the lowest prices.
Buying plants online can be overwhelming. There are so many more choices than you could ever find locally. But can you trust who you buy from? You want to get the best price but buying from a nursery online you can trust is even more important. That's what we try to do for you.
We now offer the lowest price comparisons for 257 evergreen trees and shrubs. Interested in buying perennials or annuals? View our top rated online nurseries that sell perennials and annuals.