Free Ship $179+

Free Ship $119+

Frees Ship $101+

Description
Little Gem Magnolia is Great for Residential Yards
The Little Gem Magnolia (Magnolia grandiflora 'Little Gem') tree features smaller, compact narrow form. It grows much slower than its other Magnolia relatives. The evergreen leaves of this southern tree are leathery with a deep glossy green color on top and fuzzy, rusty-brown undersides.
The Little Gem Magnolia tree produces large, fragrant, creamy white, saucer shaped flowers that are 4-6 inches wide. It's beautiful white flowers bloom in the early spring to early summer growing season. The hardy tree has a bronze brown bark all year long that looks nice as a background to the glossy leaves.
The white fragrant flowers on the Little Gem Magnolia Tree will give way to cone-like fruiting clusters that mature in the late summer to early fall months of the year. They release individual rose-red coated seeds that are a source of food for many types of wildlife including birds, squirrels, and deer.
| | |
| --- | --- |
| Soil Type | Adaptable, Well Drained |
| Sunlight | Full, Partial |
| Drought Tolerance | Good |
| Mature Height | 20-30 Feet |
| Mature Width | 10-15 Feet |
| Fall Color | Green |
| Bloom Color | White |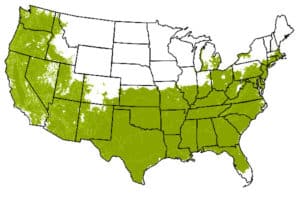 USDA Hardiness Zones 6 through 9