Description
Little Gem Magnolia is Great for Residential Yards
The Little Gem Magnolia (Magnolia grandiflora 'Little Gem') tree features smaller, compact narrow form. It grows much slower than its other Magnolia relatives. The evergreen leaves of this southern tree are leathery with a deep glossy green color on top and fuzzy, rusty-brown undersides.
The Little Gem Magnolia tree produces large, fragrant, creamy white, saucer shaped flowers that are 4-6 inches wide. It's beautiful white flowers bloom in the early spring to early summer growing season. The hardy tree has a bronze brown bark all year long that looks nice as a background to the glossy leaves.
The white fragrant flowers on the Little Gem Magnolia Tree will give way to cone-like fruiting clusters that mature in the late summer to early fall months of the year. They release individual rose-red coated seeds that are a source of food for many types of wildlife including birds, squirrels, and deer.
| | |
| --- | --- |
| Soil Type | Adaptable, Well Drained |
| Sunlight | Full, Partial |
| Drought Tolerance | Good |
| Mature Height | 20-30 Feet |
| Mature Width | 10-15 Feet |
| Fall Color | Green |
| Bloom Color | White |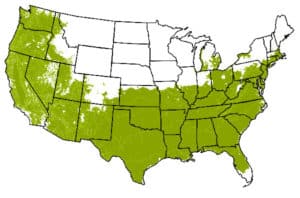 USDA Hardiness Zones 6 through 9
Little Gem Magnolia Frequently Asked Questions
How big do Little Gem Magnolia trees get?
Although named 'little', they can get 20 to 20 feet tall and up to 15 feet wide.
What kind of sunlight do Little Gem Magnolia prefer?
They do best when in full sun but they can also do just as well in an area that is considered partly shady. As long as it gets at least 4 hour of direct sunlight, it should be fine.
Are Little Gem Magnolia fast growing?
No. Their growth rate is considered slow. In ideal planting conditions you can expect 12 to 18 inches of new growth per year.
About our price comparisons:
We have either worked for, visited (to evaluate) or ordered from over 50 online garden centers. We strive to compare prices from online nurseries that we have experienced send the highest quality plants at the lowest prices.  Keep in mind that we may receive commissions when you click our links and make purchases. However, this does not impact our reviews, price comparisons or the price you pay. We try our best to keep things fair and balanced, in order to help you make the best choices.