Updated September 1, 2022

Fast Growing Trees Grade: 
B+
Overall rating

:

87
Top 20 Rank: #3
Website:  www.fast-growing-trees.com
Location: Fort Mill, SC
Why do we list location? This is so you can know, in most cases, where the evergreen shrubs you buy are coming from. 
Breakdown of scores from each of the 10 factors we evaluate. You can read details on what each category means and how we score it here.
Disclosure: I have worked as a consultant in the past for the company that owned  Fast Growing Trees and Brighter Blooms.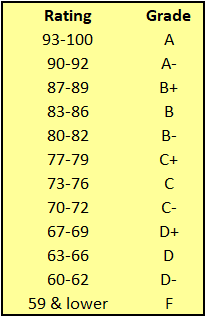 | | |
| --- | --- |
| Category | Rating |
| Years site Active | 9 |
| Prices | 8 |
| Return policy | 8 |
| Reviews | 9.5 |
| Warranty/Guarantee | 8 |
| Selection | 9.5 |
| Range of sizes | 9 |
| Ship Times | 10 |
| Ship Costs | 8 |
| Usability | 9 |
| Red flags | -1 |
| TOTAL SCORE | 87 |
Fast-Growing-Trees.com Review
The total rating and grade remained the same as last month. View our list of top online nurseries. They appear to have a very large selection in-stock. When  checked recently, Fast Growing Trees listed 72 evergreen trees and 78 evergreen shrubs in stock.
Prices Going Up?
Maybe some of their sizes have always been higher but it seems recently that they rose again. Especially on 3-gallon size evergreen shrubs. We viewed prices as high as $99.95. Most seemed to be either $69.95 or $79.95.  I know ship costs have been increasing but those prices are high compared to other nurseries. Just make sure to compare evergreen shrub lowest prices from our top rated nurseries. 
While there are some price increases, you can also find some very attractive prices on Fast Growing Trees. They seem to frequently adjust prices as we get into summer. We're assuming the price changes are based on inventory although we wouldn't be surprised if they also monitor pricing of their major competitors.
Expect to pay anywhere between 25% up to 40% for shipping if your order doesn't qualify for free shipping.
Ships in 1 to 2 Days
Fast Growing Trees usually boasts that orders ship in 1 to 2 days. They have got the processes down to where they can ship orders sooner than most of their competitors. Every order we have placed at fast-growing-trees.com has been delivered within a few days.
We just bought a Bloodgood Japanese Maple for a new neighbor as a gift. $100+ for 3-4 foot tree. It showed up in great shape. The neighbor was happy & so were we with the overall quality.
It wasn't our best experience. But, it also won't prevent us from buying with them again..
As a comparison, we also bought an Improved Meyer Lemon from Four Winds Growers. Both were sold as 3 to 4 feet tall.  The difference was staggering. For $10 less we got such a better tree with a much larger root system from Four Winds Growers.  
It also motivated us to start a string of tips for buying plants online. Our latest post is "Never Buy a Tree Online if it Just Lists Height".
A friend bought a Pink Dogwood tree from fast-growing-trees.com in May of 2021.  You can view the unboxing pictures here.
We also had someone in our neighborhood buy a Rose of Sharon tree from Fast Growing Trees. It looks really great. Better looking than anything I have ever seen at local garden centers. 
We also just bought a Loropetalum evergreen shrub from their sister site, PlantingTree.com. Fast Growing Trees, Brighter Blooms and Planting Tree all share the same fields and plants. In fact, the box delivered with the Loropetalum shrub had al 3 logo's printed on it. You can view our unboxing pictures from PlantingTree here.
Constantly Updating the Site
Fast Growing Trees has also made some updates to the look and feel of the website and that is a consistent theme.  Fast Growing Trees seems to always be testing ways to make your experience better for you.
With the changes, Fast Growing Trees is starting to look a lot more like their sister site, Brighter Blooms.  Despite sharing the same location, offices and fields, Fast Growing Trees lists a different number of evergreen trees & shrubs for sale compared to Brighter Blooms. That just seems odd. Either way, Fast Growing Trees does have a good selection of trees & shrubs for sale. It just seems a bit more intuitive from a user perspective to get around and find things on Brighter Blooms versus Fast Growing Trees.
The selection they offer has gone up quite a bit. As we frequently recommend, call the nursery before you order. Make sure you know where your plant(s) are coming from and what size plant and container your are buying.
Fast Growing Trees features a lot of product reviews.  Over 600 for just the Thuja Green Giant. It is refreshing to find a site that actually has a lot of user generated reviews and questions. There's also 14,261 Fast Growing Trees Google reviews with a 4.1 rating.  That rating is down from 4.6 late last year. You can view Fast-Growing-Trees.com Google customer reviews here.
Fast Growing Trees Makes 3 Major Changes in 3 Years
I worked with the family that originally started the 2 online plant nurseries, Fast Growing Trees and Brighter Blooms. The company that owned them was sold early in 2018. It was announced in a press release on February 9, 2018. In the summer of 2021 they bought PlantingTree.com and 2 months later announced an investment from Berkshire Partners, 
What does this mean for you? Probably not much.
Only Listing Tree Heights For Sale is Not Good
We noticed that almost all their trees and some shrubs only list a height. There's no container size listed.  As we discussed above, there could be a pretty big difference in the size of the roots system of a 3 to 4 foot tree depending whether it was in a 1-quart, 1-gallon, 3-gallon or 5-gallon container. Those things matter. 
Fast-Growing-Trees.com boasts that they do not sell bare root but we're guessing they remove the container & much of the dirt off some of the plants they ship. We've seen field pictures with burlap wrapped around the roots with what appears to be some sort of loose soil inside. We can not confirm that is what they are doing, just an educated guess.  It would save them a lot on shipping costs if they remove the container and a lot of the dirt.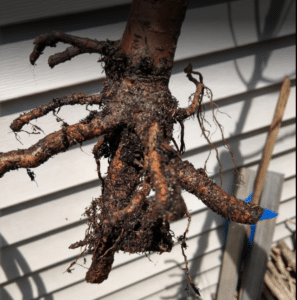 We've actually read a few reviews recently with customers complaining that all they got were bare root trees in a burlap bag with a mulch type soil. There was one review with a picture of what appeared to be pruned roots.  We obviously can't confirm if that picture is actually from a tree shipped by Fast Growing Trees. It would be a bit dishonest, in our opinion, to boast you don't ship bare root when all you're doing is putting bare root plants in a burlap sack with a loose medium.
We also saw roses on Fast Growing Trees listed for sale as either 1, 2 or 3 year old plants. They do list list a height range in the bullet points below each size.  I've never seen plant sizes primarily listed by age.  Maybe that's a growing trend? (pun intended)
We were also impressed with the amount of information on the different evergreen product pages.  A lot of questions & answers as well as planting guides.
Fast Growing Trees Terms of Service was changed in 2020 and appears to be an exact copy of Brighter Blooms. This includes language for their plant guarantee stating they might trim roots.  Not a fan of that.
We strongly recommend before you buy anything from fast-growing-trees.com you contact them first & question the status of any plants you want to buy. Their phone staff can help you choose what is best. Also make sure to ask what container size the plant(s) were grown in at shipping time.
What were the red flags?  We took away one point for the following reasons:
They charge a 25% restocking fee if a return is authorized.  That excludes shipping. Not the worst restocking fee but still a bit high in our opinion.
Frequently Asked Questions
Where is Fast Growing Trees nursery located?
Fast Growing Trees Nursery is located at 2621 Old Nation Road in Fort Mill, SC, a suburb of Charlotte, NC
Are Fast Growing Trees and Brighter Blooms the same thing?
The same company owns & operates both websites. They both share the same offices, fields and plants.
Does Fast Growing Trees offer free shipping?
Fast-Growing-Trees.com offers free shipping pretty much every week. The minimum order required to qualify for free shipping fluctuates from week to week. They will also occasionally require a coupon code to be used to get free shipping. Coupons (if required) are posted on the upper left corner of the website.
Is Fast Growing Trees open to the public?
No, they are not. You can, however, place your order on their website at www.fast-growing-trees.com or over the phone and pick it up.
Fast Growing Trees

Fast Growing Trees Nursery Review and Rating
Operating System: Shopify
Application Category: Website
Pros
World's largest online plant nursery.
Most orders ship in 1 to 2 days
Huge selection
Cons
25% restocking fee if a return is authorized
Prices fluctuate
Disclaimer
All the information on this website – www.BuyEvergreenShrubs.com – is published in good faith and for general information purpose only. Buy Evergreen Shrubs does not make any warranties about the completeness, reliability and accuracy of this information. Any action you take upon the information you find on this website (Buy Evergreen Shrubs), is strictly at your own risk. Buy Evergreen Shrubs will not be liable for any losses and/or damages in connection with the use of our website.