Top Rated Nurseries Online
Updated September 1, 2023
Where's the best place to buy plants online?
From first to worst, our Top 20 online nursery rankings are below. We also list 11 other nurseries that we monitor below the rankings. You can also view our 6 top-ranked online nurseries to buy houseplants here.
It's beginning to feel a bit like fall! The days are getting shorter. While some areas of the country are still sweating out some high temperatures during the day, there are other areas that are starting to feel some cool air in the evening. Professional landscapers know that fall is the best time of the year to plant trees and shrubs. Planting in fall gives the newly transplanted trees and shrubs time to focus on their root system, below ground. Winter weather will either push them into dormancy or not spend much energy on growing above-ground. Establishing a solid root system is the key to explosive growth.
Shopping online provides you with the convenience and a superior selection of trees, shrubs, perennials, houseplants, and garden supplies. 
Nurseries ranked by rating score high to low.
| | | | |
| --- | --- | --- | --- |
| Rank | Online  Nursery | Rating | Complete Review |
| 1 | | 90 | Read Review |
| 2 | | 88.5 | Read Review |
| 3 | | 85.5 | Read Review |
| 4 | | 83.5 | Read Review |
| 5 | | 80 | Read Review |
| 6 | | 80 | Read Review |
| 7 | | 80 | Read Review |
| 8 | | 79 | Read Review |
| 9 | | 78.5 | Read Review |
| 10 | | 78.5 | Read Review |
| 11 | | 77 | Read Review |
| 12 | | 77 | Read Review |
| 13 | | 76 | Read Review |
| 14 | | 76 | Read Review |
| 15 | | 76 | Read Review |
| 16 | | 75.5 | Read Review |
| 17 | | 75 | Read Review |
| 18 | | 73.5 | Read Review |
| 19 | | 70 | Read Review |
| 20 | | 69.5 | Read Review |
Other nurseries we review:

Four Winds Growers
In our opinion, Four Winds Growers Nursery is the place to go online to buy a wide variety of dwarf and semi-dwarf citrus trees.  We have ordered from them 3 times and have always been impressed with the plants they send. If you think it's too cold where you live, think again. Just bring it indoors for winter and keep the tree near a southern-facing, sunny window. I have 13 Meyer lemons maturing on my 5-year-old tree right now. I am constantly amazed how it keeps coming back year-after-year after being inside my home for months. The only downside is that I now need to borrow a neighbor's hand truck to move it indoors. A small inconvenience.
---
Proven Winners
One of the premier brand names in the landscape world, Proven Winners is now selling many of their plants direct to consumers.
---

Nature Hills Nursery
A drop ship model, meaning they send orders to real nurseries that ship out the plants. You can read our latest review, rating, and grade here.
---

Gardener Direct
Editor's Rating: 6.1 Stars (out of 10)
Cons
F Grade from the Better Business Bureau
Long and confusing terms of service
Their latest grade was a D-. Read reviews & ratings here.
---
Direct Gardening
They have consistently been one of our worst-ranked online nurseries. Read the latest review, rating, and grade here.
---
McKay Nursery
Great reputation as a wholesale grower. Their regional landscape division also has a good reputation. Their retail online nursery? Not so much. Read McKay Nursery review, rating, and grade here.
---
Pixie Gardens
Based in Conyers, GA, they have been making a concerted effort to build up their online nursery. We might add them to our rankings soon.
---
Good selection and prices for dwarf and semi-dwarf citrus trees. Attractive prices and good quality. You can shop citrus trees for sale and compare best prices from our top rated nurseries.
---


Bluestone Perennials
One of our top nurseries for perennials.
---
Great online store for perennials & annuals.
---
Plant Addicts
They are a drop shipper based in Omaha, NE. The 2 friends who own it built the site and gathered supplier connections while they were working at Nature Hills Nursery.
---
LivelyRoot.com is one of our 6 best places to buy houseplants online. 
They offer a wide selection of the most popular and even hard to find plants. Their prices are awesome, they carry different sizes and they offer free shipping on orders over $49. 
They also offer a lot of helpful tips and advice for finding and caring for the best houseplants for your situation.
---
Disclosure
All company names, and logos are trademarks™ or registered® trademarks of their respective holders. Use of them does not imply any affiliation with or endorsement by them.
Before you place an order please make sure you verify when your plants will ship. Do it before giving them your money. Even southern nurseries that can ship year-round face some exceptions & delays with extreme temperature conditions.  Also make sure you know if you are buying bareroot, it's most likely to be delivered in late spring.
If a site says something like; 'ships 7 to 10 days weather permitting' call them to verify the shipping status. 
This is why we list the location of the nursery on each of their reviews. In most cases, it lets you know where your plants will be shipped from.  Southern nurseries get a month or two head start on their growing season from their counterparts up north. Also, most northern nurseries will start shipping later in spring than while many in the south can ship year-round.
Unboxing Orders
We continually place orders for plants from our top-rated nurseries. You can view pictures and read the complete unboxing review for each by clicking on any of the links below.  Unboxing is listed in chronological order, with the most recent orders on top.
Unboxing Garden Goods Direct Rattlesnake Plant
Unboxing Windmill Palm from My Perfect Plants Nursery
Unboxing Houseplant from Lively Root
Unboxing Meyer Lemon tree from Planting Tree Nursery
Unboxing perennials from Jackson & Perkins
Unboxing Loropetalum Shrubs from Perfect Plants Nursery
Unboxing Loropetalum Shrub From PlantingTree.com
Unboxing Snake Houseplant ($15 for a 2-foot tall plant!) September, 2021
Unboxing From Fast-Growing-Trees.com June, 2021
Unboxing From MyPerfectPlants.com May, 2021
Unboxing Order From Great Garden Plants April, 2021
Unboxing Evergreen Shrub From PlantsByMail.com Nursery
Unboxing Blueberry Shrubs From Perfect Plants Nursery
Unboxing Meyer Lemon from Fast Growing Trees
Unboxing Meyer Lemon from Four Winds Growers
Unboxing Tabletop Christmas Tree from Jackson & Perkins
Unboxing Camellias from Garden Goods Direct
Unboxing Rosemary & Blueberry Bush From Planting Tree
Unboxing 4 Plants Ordered From The Tree Center

Frequently Asked Questions


What is the best mail order nursery?
Mail order is the same as saying online nursery. Before the internet became so popular, many nurseries used to send printed catalogs, so the name has stuck. We rank the top 20 mail order nurseries from first to worst. http://buyevergreenshrubs.com/
Are there different types of online nurseries?
YES! There are 3 different types. 1) Wholesale growers who have a retail website. 2) Your typical retail nursery but many online do not have a retail storefront. 3) Drop Shippers. Websites that don't have their own fields with plants and use third party nurseries to ship their orders. Nature Hills Nursery is an example.
Can you order houseplants online?
Yes! Literally hundreds of different houseplants are for sale online with delivery to your door. You can compare prices from our top 6 places to buy houseplants online for over 170 popular houseplants. http://buyevergreenshrubs.com/live-houseplants/
Where can I buy plants at the lowest prices online?
Just remember you usually get what you pay for. In order of our ratings high to low, here are 3 'low-cost' online nurseries. Arborday.org, Greenwood Nursery, TYTY Nurseries.
We worked with 5 of the largest online plant nurseries in the country for over 12 years. We have also visited (to evaluate) or ordered plants from over 32 online garden centers and wholesale growers. We know what to look for and we don't hold back what we dig up (pun intended). This site is dedicated to helping you buy plants online with confidence at the lowest prices. 
Our Grading Scale: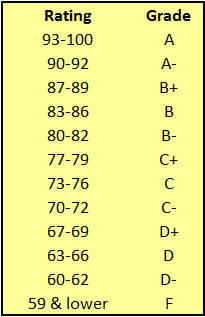 Disclaimer
All the information on this website – BuyEvergreenShrubs.com – is published in good faith and for general information purpose only. Buy Evergreen Shrubs does not make any warranties about the completeness, reliability and accuracy of this information. Any action you take upon the information you find on this website (BuyEvergreenShrubs.com), is strictly at your own risk. Buy Evergreen Shrubs will not be liable for any losses and/or damages in connection with the use of our website.
About the Author