Updated January 31, 2021
Greenwood Nursery Grade:  C
Overall rating:

73
Top 25 Rank:

#19
Website:  www.greenwoodnursery.com
Location: McMinnville, TN
Why do we list location? This is so you can know, in most cases, where the evergreen shrubs you buy are coming from.
Breakdown of scores from each of the 11 factors we evaluate. You can read details on what each category means and how we score it here.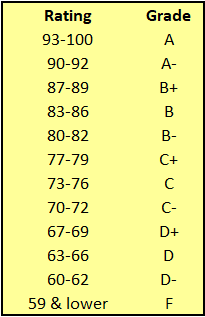 | | |
| --- | --- |
| Category | Rating |
| Years site Active | 9 |
| Pricing | 7 |
| Return policy | 7.5 |
| Reviews | 6 |
| Warranty/Guarantee | 7.5 |
| Selection | 7 |
| Range of sizes | 7.5 |
| Ship Times | 8.5 |
| Ship Costs | 7.5 |
| Usability | 8.5 |
| Red flags | -3 |
| TOTAL SCORE | 73 |
Greenwood Nursery Review
Greenwood Nursery's rating stayed the same, keeping their grade at a C. Greenwood Nursery is located in McMinnville, TN.
Greenwood Nursery has made some upgrades to their website. It looks completely different then it did last January. They even started a podcast this month. It almost looks like they just debuted a new site and went with the basic template or theme, if you will. It has a very basic with a cookie cutter look & feel. It is super fast until you start using the search option.
They recently added brief descriptions for each product on the category pages. The listings also include a size and price. We assume those are the smallest sizes & prices.  As of January 30th, we found 73 evergreen shrubs and 10 evergreen trees for sale. 
Greenwood Nursery was first registered in 2000, that gives them a 9 rating for years in business.  They seem to mostly carry sizes from a 2.5 inch to 1 gallon containers. Prices are a bit all over the place.
Even with the latest revisions their site isn't the easiest to get around on.  They do offer a pretty comprehensive list of planting instructions and helpful gardening resources.
It was hard to find any reviews for Greenwood Nursery. It took some digging but we eventually found 28 Google customer reviews for Greenwood Nursery with a 3.4 out of 5 rating. You can view their Google reviews here.
Here's Greenwood's guarantee:  Greenwood's Stress Free Guarantee on evergreen plant varieties are shipped healthy, growing and ready for planting. Once received and no further reports have been filed with us within 48 hours of carrier delivery, plants are considered accepted. Evergreen plants that do not survive within the first year planted may be replaced at half current regular pricing plus shipping. 
It's also the first guarantee that had its own disclaimer page. Not saying whether that's good or bad, just unique.
What were the red flags?
Ship costs are a bit high, especially with the smaller sizes they sell.  20% and higher.
We didn't see many product reviews. Just seems odd for a site that's been active since 2000.
Greenwood Nursery reviews online are hard to find. Just seems odd that they don't have a lot more online reviews.
Frequently Asked Questions
Does Greenwood Nursery sell bare root plants?
Yes. Greenwood Nursery does sell a limited number of tree varieties as bareroot.
Is Greenwood Nursery open to the public?
No, Greenwood Nursery is not open to the public. You can, however, call ahead & arrange to pick up plants your purchased.
Disclaimer
All the information on this website – www.BuyEvergreenShrubs.com – is published in good faith and for general information purpose only. Buy Evergreen Shrubs does not make any warranties about the completeness, reliability and accuracy of this information. Any action you take upon the information you find on this website (Buy Evergreen Shrubs), is strictly at your own risk. Buy Evergreen Shrubs will not be liable for any losses and/or damages in connection with the use of our website.