Updated: May 1, 2020
Arborday.org Grade:

  C          
Overall rating:

76
Website:  www.arborday.org                         
Location: Nebraska City, NE
Why do we list location? This is so you can know, in most cases, where the evergreen shrubs you buy are coming from.

Breakdown of scores from each of the 11 factors we evaluate. You can read details on what each category means and how we score it here.
| | |
| --- | --- |
| Category | Rating |
| Years site Active | 10 |
| Prices | 9 |
| Return policy | 6 |
| Reviews | 6 |
| Warranty/Guarantee | 8 |
| Selection | 8 |
| Range of sizes | 7.5 |
| Ship Times | 7 |
| Ship Costs | 9 |
| Usability | 7.5 |
| Red flags | -2 |
| TOTAL SCORE | 76 |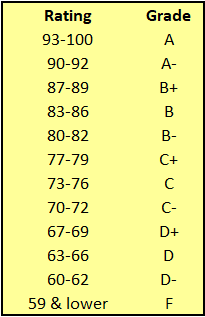 ArborDay.org Review: 
Arbor Day's total rating and grade grade stayed the same with a C. Keep in mind we are rating and reviewing the online store for Arbor Day located at https://shop.arborday.org/
Arbor Day continues to be a low price leader with most of their evergreen trees. We found prices starting at $4.78.  Arbor Day also sends some very small bare root plants.  Many of the evergreen trees we looked at were listed at shipping with a height range of 3 to 12 inches. If you're willing to wait a long time to see results and want evergreen trees & shrubs cheap, this is your place.  
Arbor Day COVID-19 Tree Shipping Notice
Arborday.org posted a notice on their store on April 4th announcing they have temporarily suspended all bareroot shipping. On April 24th they posted an updated notice that all shipping has resumed and they were fully operational.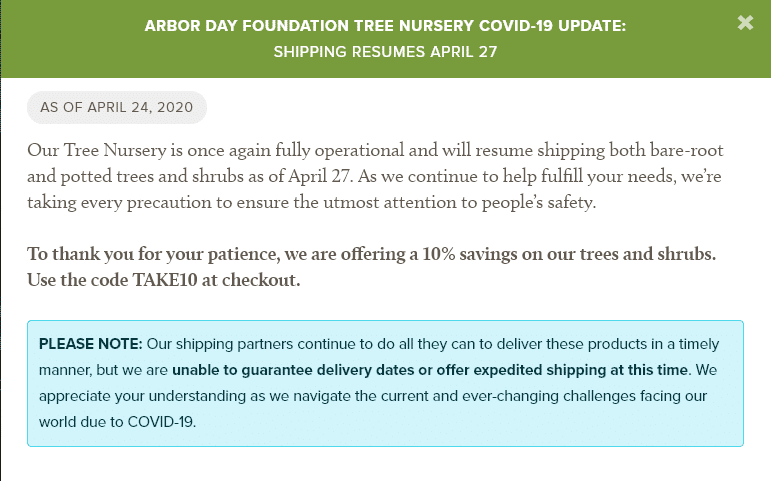 Arborday is Selling More Potted Sizes
One change we're noticing is more plants have a potted size as well as bare root. They've been adding more and more potted plants each month.  That's a nice option to have.  We saw 1-gallon containers for $32.99. Kind of pricey but they do offer free shipping on orders over $75. I guess you pay for it one way or another.
Arbor Day has been testing and making some cosmetic updates to their online store the past few months.  From what we can tell, they have rolled out these changes to more of their online store. It definitely looks better and seems easier to navigate. 
Arborday.org Product Reviews Are Getting Easier to Find
One of the new changes includes a section on every product to place a review. For the first time, we found an Arbor Day product review. When we looked on April 1st, there were a lot more product reviews.  Unlike other online nurseries, they do not seem to be filtering out negative reviews.  That's a big plus. They even seem to replying to most of the reviews.
We could not find anywhere, and we spent more time than we should have, reviews online for the Arbor Day Nursery reviews. They do have a 4.1 star rating on Facebook but those are mostly for the charity, not their online store.
Arborday.org also has a video on many of the product pages showing how to plant bare root trees.  It's actually pretty good with step-by-step directions.
Arbor Day is located in Nebraska. They have a link on the product pages to a pretty easy to understand shipping schedule. It looks like they have resumed shipping to the very southern parts of the US at the beginning of March. If you are not sure when an order will arrive, please call them before your order. 
The products have a banner that says; "Guaranteed Healthy Delivery". It's not obvious but you can mouse over the banner & click on it to get a popup that elaborates; "When you order trees from The Arbor Day Foundation, your order is guaranteed to arrive in a good, healthy condition or we'll replace them at no charge. Your trees will be shipped at a suitable time for planting. Each tree and plant is guaranteed to grow, or we'll replace it within one year of shipment."
The number of evergreen trees and shrubs they have in-stock is impressive and we've noticed they're putting more plants in-stock almost daily. It's onlt the start of April but they are already out of sotck on a few popular evergreens. Maybe they will get more in stock?
ArborDay.org Ofers Free Shipping on Orders Over $75
They raised their free shipping minimum order size from $60 to $75 in February.  If they're shipping a lot of bare root, it makes sense to offer free shipping. It costs a lot less to ship plants with no dirt. We could not find shipping rates anywhere.  Just by pure trial & error we discovered that $9.95 seems to be a flat rate ship cost with any order under $75. Over $75 automatically gets free shipping.
Arbor Day website goes back to 1995.  They scored highest on both domain authority & years the site has been active out of the 20 sites we evaluated. Their domain authority has taken a hit in recent months, they still have the highest domain authority but their lead has shrunk.
Planting  deciduous bare root trees & shrubs is a little more forgiving since they are dormant.   We found a few sources for planting bare root evergreen shrubs that recommended clipping off most of the foliage prior to transplanting. While it sounds harsh, removing the green foliage will help it survive. It will focus on root growth, crucial for long term success. Just understand if you;re buying a slow growing bareroot evergreen tree or shrub, you will be waiting a while to see results.
What were the red flags?  
Pretty much the same thing we raised a red flag for in the past. Return Policy.  They may have one but we looked pretty hard and still can't find one. They do have a new popup promoting a plant guarantee but it doesn't give too many details.

They now seem to allow product reviews but we could only find a few. There's probably a reason why there aren't many product reviews and I can't of any that would be a positive. It's also next to impossible to find any online reviews for the Arborday store.
Disclaimer
All the information on this website - www.BuyEvergreenShrubs.com - is published in good faith and for general information purpose only. Buy Evergreen Shrubs does not make any warranties about the completeness, reliability and accuracy of this information. Any action you take upon the information you find on this website (Buy Evergreen Shrubs), is strictly at your own risk. Buy Evergreen Shrubs will not be liable for any losses and/or damages in connection with the use of our website.