Arborday

Arborday.org nursery review, rating and top 20 rank.
Operating System: Big Commerce
Application Category: Website
Pros
Nonprofit that has been in business a long time.
Low prices.
Cons
Small size trees.
Not a huge selection.
Arborday.org Grade: 

C 

        
Top 20 Rank:  18
Website:  www.arborday.org                         
Location: Nebraska City, NE
Why do we list location? This is so you can know, in most cases, where the evergreen shrubs you buy are coming from.
We evaluate and score 10 different categories. You can read details on what each category means and how we score it here.
ArborDay.org Review: 
Arbor Day's total rating came in at 75 this month and their grade remained a C. Keep in mind we are rating and reviewing the online store for Arbor Day located at https://shop.arborday.org/
Arbor Day consistently has some of the lowest prices with most of its evergreen trees and shrubs.  Arborday.org also sends some very small bare-root plants.  Many of the evergreen trees we looked at were listed at shipping with a height range of 6 to 12 inches. 
Prices were as low as $11.99. For example, a 6 to 12-inch Thuja Green Giant was $11.99. They also sell a 1-gallon container size for $39.99. That 1 gallon is twice as much as some of our top nursery prices for the Thuja Green Giant.
Arborday Evergreen Selection is a Bit Small
As of September 28th, they had 45 evergreen trees & shrubs in stock. That is one of the smallest selections of evergreens to shop for from all our major online nurseries.  
Arbor Day Fall 2023 and Spring 2024 Delivery Schedule
Arborday.org has a shipping schedule here https://shop.arborday.org/nursery-shipping. When we checked recently, Arborday doesn't start shipping until the week of November 8th. That can be pretty late in the planting season for many areas. Just keep this in mind if you order now, it may not ship until your ground is frozen. I would definitely contact them before ordering anything to get an expected delivery time.
Arborday is Selling More Potted Sizes
One change we're noticing is more plants have a potted size as well as bareroot. That's a nice option to have.  We saw a 1-gallon Thuja Green Gant container for $39.99. Kind of pricey but they do offer free shipping on orders over $99. I guess you pay for it one way or another.
Arbor Day has been testing and making some cosmetic updates to its online store this past year.  From what we can tell, they have rolled out these changes to more of their online store. It definitely looks better and seems easier to navigate. 
Make sure you look at their state restrictions before buying any potted plants from Aborday. For the plants we looked at, we saw an average of 18 states they could not ship potted evergreen trees to. Some are outlying US territories, or Alaska and Hawaii which makes sense for shipping a live plant. Still, make sure you check before you buy.
Arborday.org Product Reviews Are Getting Easier to Find
One of the new changes includes a section on every product to place a review. For the first time about a year ago, we found an Arbor Day product review. 12 months later and we can find more product reviews but still not that many.  Unlike other online nurseries, they do not seem to be filtering out negative reviews.  That's a big plus. They even seem to reply to many of the negative reviews.
We could not find it anywhere, and we spent more time than we should have, reviews online for the Arbor Day Nursery reviews. They do have a 4.1 star rating on Facebook but those are mostly for the charity, not their online store.
Arborday.org also has a video on many of the product pages showing how to plant bare-root trees.  It's actually pretty good with step-by-step directions.
The products have a banner that says; "Guaranteed Healthy Delivery". It's not obvious but you can mouse over the banner & click on it to get a popup that elaborates; "When you order trees from The Arbor Day Foundation, your order is guaranteed to arrive in a good, healthy condition or we'll replace them at no charge. Your trees will be shipped at a suitable time for planting. Each tree and plant is guaranteed to grow, or we'll replace it within one year of shipment."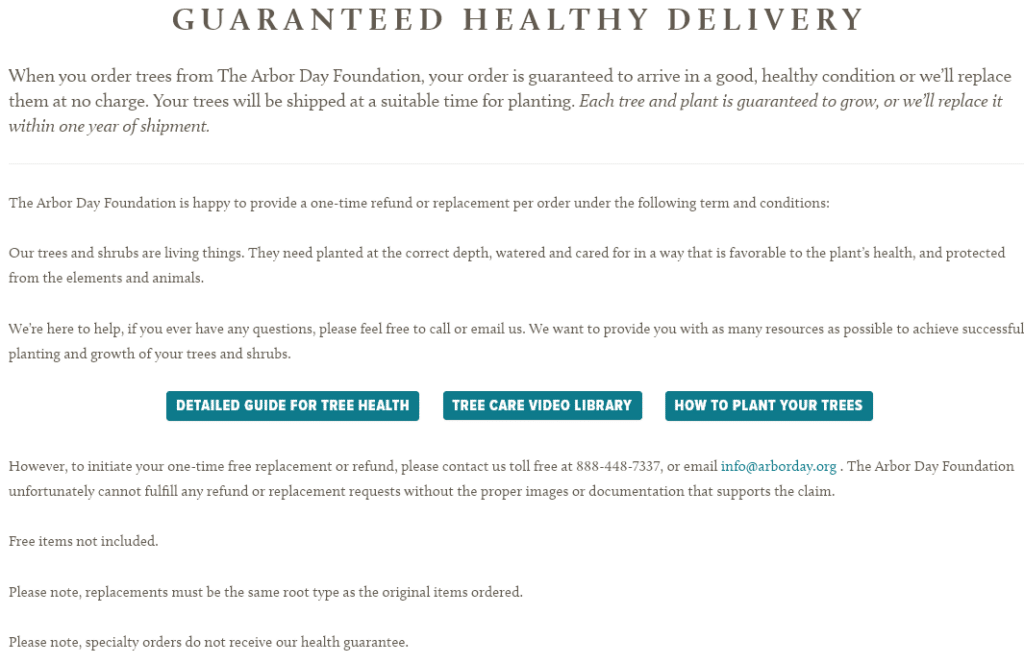 ArborDay.org Offers Free Shipping on Orders Over $99
If they're shipping a lot of bareroot, it makes sense to offer free shipping. It costs a lot less to ship plants with no dirt. We could not find shipping rates anywhere.  Just by pure trial & error, we discovered that $14.95 seems to be a flat rate shipping cost with any order under $99. Over $99 automatically gets free shipping.
ArborDay website goes back to 1995.  They scored highest on both domain authority & years the site has been active out of the 20 sites we evaluated. Their domain authority has taken a hit in recent months, they still have the highest domain authority but their lead has shrunk.
Planting deciduous bare-root trees & shrubs is a little more forgiving since they are dormant.   We found a few sources for planting bare-root evergreen shrubs that recommended clipping off most of the foliage prior to transplanting. While it sounds harsh, removing the green foliage will help it survive. It will focus on root growth, crucial for long-term success. Just understand if you're buying a slow-growing bareroot evergreen tree or shrub, you will be waiting a while to see results.
What were the red flags?  
They now seem to allow product reviews but we could only find a few. There's probably a reason why there aren't many product reviews and I can't of any that would be a positive. It's also next to impossible to find any online reviews for the Arborday store.
Arborday Nursery Frequently Asked Questions
Where is Arborday Nursery located?
Arborday is based in Nebraska City, NE. Their mailing address is 211 N. 12th Street Lincoln, NE 68508.
Can I call in an order at Arborday Nursery?
Their toll free number is 1-888-448-7337.
Does Arborday offer free shipping?
Yes. Arborday offers free shipping on orders over $99. It is automatically applied when checking out.
Disclaimer
All the information on this website – www.BuyEvergreenShrubs.com – is published in good faith and for general information purpose only. Buy Evergreen Shrubs does not make any warranties about the completeness, reliability and accuracy of this information. Any action you take upon the information you find on this website (Buy Evergreen Shrubs), is strictly at your own risk. Buy Evergreen Shrubs will not be liable for any losses and/or damages in connection with the use of our website.
About our price comparisons:
We have either worked for, visited (to evaluate), or ordered from over 50 online garden centers. We strive to compare prices from online nurseries that we have experienced and send the highest quality plants at the lowest prices.  Keep in mind that we may receive commissions when you click our links and make purchases. However, this does not impact our reviews, price comparisons, or the price you pay. We try our best to keep things fair and balanced, in order to help you make the best choices.
About the Author