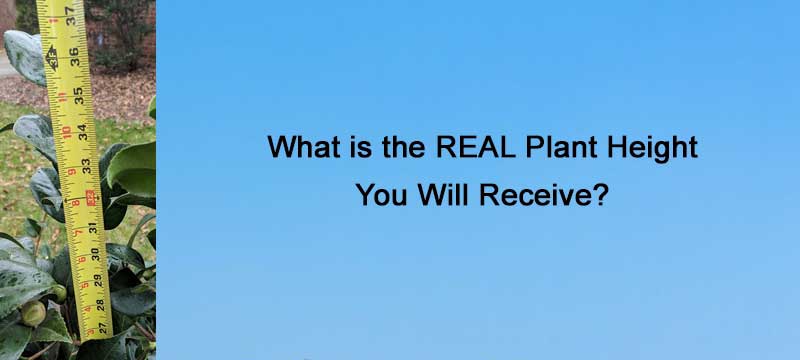 Unfortunately, not all tree and shrub heights sold online are the same.
When shopping online for trees or shrubs you often see a height listed.  Many times, it will not list the size of the container. But is the height listed on the website what you will actually receive?
Unfortunately, that answer is; Not always. Having worked in the online nursery business for 10 years, I discovered not all heights listed for trees online are the same. Here are 2 tricks you need to be on the look-out for:
1) Free Pruning! One practice a few nurseries undertake is pruning your tree down. The tree delivered to you could be up to 1/3 shorter than the height listed on their site.
It is usually referred to as 'complimentary' or 'professional' pruning.   Some will even spin it by saying they will prune your trees 'at no additional cost'.
Cutting back trees will save the nursery a lot of money on shipping.  Shorter tree, shorter box. FedEx & UPS charge based on weight & overall dimensions of the box. 
Like pretty much everything else in the world of horticulture, it is not a simple black & white issue.  There are some advantages to pruning back plants.  In theory, pruning increases the chance for success.  Less foliage means more energy for the plant to focus below ground, developing a strong root system. 
Planting directions from more & more nurseries now include recommendations to prune back your new trees & shrubs. The key is, in our opinion, to leave the decision up to you.
2) Misleading heights by including the roots. Some nurseries will add the height of the container to the overall height they list for sale.  "Our Tree heights include the height of the container" This can add 12 inches or more to the actual height of the tree.
They know when you first take the plant out of the box it will be the height listed for sale. It's kind of deceptive. They're hoping that when you get it in the ground & realize it is shorter than advertised that you won't complain.
Where would you find this information?
Disclosures for pruning and heights are typically buried in the fine print of their terms of service, also called terms & conditions. Some may put in their shipping information, others in a frequently asked questions section.
Pruning bare roots. If you plan on buying bare root trees or shrubs you need to be aware that trimming major roots is frequently done.  The nursery can save a lot of money if they can get the root system smaller and your bareroot plant(s) in a smaller box.
Unfortunately, this is not something commonly disclosed.  You won't know until you get your order & see fresh cuttings on the roots. Your best bet would be to call the nursery and push for an answer.
Lowest Prices and True Height
We monitor and display the lowest prices from 15 top rated online nurseries for over 600 evergreen trees & shrubs. We also verify that they haven't added any language regarding pruning. Once a month we analyze the language on all 15 nurseries to make sure nothing has changed.
Shop any of the products on our site & you won't have to worry about these tricks. But. if you are ever in doubt, call them! 
Latest posts by Show me the green
(see all)