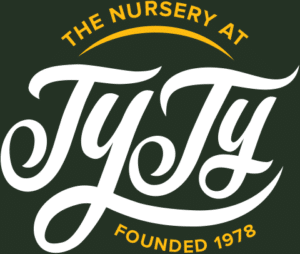 Updated September 1, 2022
TyTy Nursery Grade:  C
Overall rating: 74.5
Top 20 Rank: #17
Website:  www.tytyga.com
Location: TyTy, GA
Why do we list location? This is so you can know, in most cases, where the plants you buy are coming from. 
Breakdown of scores from each of the 10 factors we evaluate. You can read details on what each category means and how we score it here.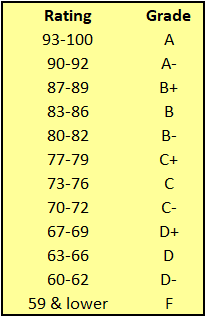 | | |
| --- | --- |
| Category | Rating |
| Years site Active | 9 |
| Prices | 8 |
| Return policy | 7.5 |
| Reviews | 7 |
| Warranty/Guarantee | 8 |
| Selection | 7.5 |
| Range of sizes | 7.5 |
| Ship Times | 6.5 |
| Ship Costs | 7 |
| Usability | 8.5 |
| Red flags | -2 |
| TOTAL SCORE | 74.5 |
TyTy Nursery Review:
The overall grade for TyTy jumped up 4 points which raised both their grade and their Top 20 rank.  Also known as TyTy GA and TyTy Plant Nursery, their grade comes in at a C. 
We want to acknowledge that TyTy has not had the best reputation in the past. Having said that, we were not aware that TyTy had been sold. Apparently, a Manager who had been with the previous owner for 10 years bought TyTy Nursery on August 1, 2017. They reached out to us recently to emphasize their commitment to the customers. TyTy's owner also mentioned that they were developing a new site.
New Month – New Look!
The new site has been rolled out and it looks so much better! It is super fast, easy to navigate around and the plant sizes are clearly marked. They also debuted a new logo. It is a huge improvement over the old site.
There's a banner that says pre-order your plants today. Much of what TyTy sells are bare root. They list a projected ship time on most products. We saw dates ranging from mid-October to late December.  Just keep that in mind before you order.
We also saw late December projected ship times for potted plants. That seems kind of odd. Who would want a plant delivered when the ground could be frozen?

Free 1 Year Guarantee
Most online nurseries are now offering an extended 1 year warranty. It usually costs about 10% of the product cost. You will usually need to submit photo's with any claim and at best you get a store credit for the products.  
TyTy Nursery is offering a year guarantee for free. They call it Plantsurance. As the site states; "As long as the plantsurance request is within 365 days of receiving the merchandise and within the proper recommended USDA Zones you will receive a store credit for the value of the plants that did not survive transplanting."
TyTy Nursery claims they don't ship bare root plants.  They call if 'Eco-Wise' which they describe as removing all excess soil. Sounds to me like bare root. Technically they do sell some container grown plant material but they remove the container and soil before shipping. Those plants would not technically be considered bare root. 
Removing the dirt gives TyTy a savings on ship costs. They eliminate the heaviest part. Their ship costs, however, are not reflective of their lighter weight. Their shipping charges are roughly 20% of their product cost.  In our opinion, that is a lot. You will pay roughly the same 20% ship cost at other online nurseries and they come with the container and dirt!
TyTy Terms of Service and Return Policy
In the past, the language was confusing and lengthy. The Terms and Conditions has been cleaned up… a lot. They do charge a 15% restocking fee if they accept your cancellation but that is not the worst we have seen.
Their shipping and returns page is pretty long but includes good information, including various ship scheduled and ship rates. There's a lot to digest but at least none of the dreaded all caps attorney's love to include.
We have to give them credit for offering a reasonable refund policy if there are ship delays. Dealing with live plants, there are all sorts of issues that can happen. If it takes more than 10 days to ship (in-season), they will refund you upon request.  Here's their language; 
if for any reason we do not ship the product ordered within such ten day shipping period, the customer will, upon request, be promptly refunded in full the entire purchase price for such product unless the customer has confirmed that the delayed shipping date is satisfactory to the customer. If for any reason we do not ship the product ordered within an estimated delayed shipping date confirmed by the customer, the customer will be promptly refunded in full the entire purchase price paid for such product, upon request.
Eco-wise Shipping
TyTy sells field grown bareroot and container plants. Both are labeled by as Eco-wise. It's their way of saying your plant(s) will ship with no dirt. Bare root plants are shipped dormant. That seems to be where a lot of complaints come from. People see a dormant plant and think it is dead. I'm not sure why TyTy wants to avoid saying bare root, there are still a lot of consumers that seek them out.
TyTy Nursery Reviews
TyTy Nursery Google customer reviews are not the worst we have seen, although that's not really a compliment. As of September 1st Google lists 1,404 customer reviews with an average star rating of 3.4.  You can read TyTy Nursery Google Reviews here. We skimmed through the most recent reviews and it seems to be one extreme or the other. There are more 4 or 5 star reviews the past month than there are 1 or 2 star reviews. 
They have 116 complaints on file at the better Business Bureau, yet the BBB grades TyTy at a B. 116 is the third highest number of complaints of any of the nurseries we review. If there's any positive spin, they seem very responsive to the complaints to get them resolved to the customer's satisfaction.
They have been around for quite a while. The latest owner has been at the helm for almost 5 years now. There have been some improvements. In our opinion, if you want cheap trees & shrubs, you can find them at TyTyga.com.
What were the red flags?  
Ship costs are high considering they ship with no soil.
They are getting hammered on some review sites.
Frequently Asked Questions
How did they get the name TyTy Nursery
TyTy is the name of the town they are located. TyTy, GA
Can you call in and order on the phone?
You can call TyTy Nursery toll free at 888-758-2252. You might have to be patient. The few times we have called it sounded like chaos in the background and we always had to leave our number to get a call back.
Is TyTy Nursery open to the public?
No. The site states at the bottom, in all caps; NOT OPEN TO THE PUBLIC
TyTy Nursery Review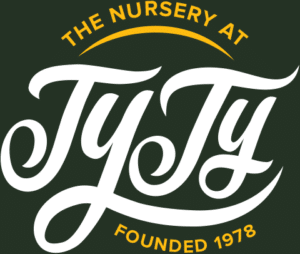 September 28, 2022 - Discover details you need to know before you buy trees or shrubs online. TyTy Nursery review, ratings & grade from an industry insider.
Operating System: Volusion
Application Category: Website
Pros
New owners have improved the site and customer service experience.
Prices are low
Cons
Ship costs are high considering they ship with no soil.
They are getting hammered on some review sites.
Disclaimer
All the information on this website – www.BuyEvergreenShrubs.com – is published in good faith and for general information purpose only. Buy Evergreen Shrubs does not make any warranties about the completeness, reliability and accuracy of this information. Any action you take upon the information you find on this website (Buy Evergreen Shrubs), is strictly at your own risk. Buy Evergreen Shrubs will not be liable for any losses and/or damages in connection with the use of our website.