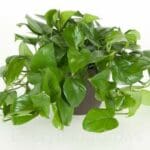 Pothos plants, also known as Devil's Ivy, are a great choice for a beginner or if you've never had any luck growing live houseplants.  Although popular in hanging baskets, they also look good in a container on a plant stand. They're also great on a shelf or tabletop where it has a little room to grow out horizontally.
Most varieties have dark green leaves with a splash of white to cream colored marbling.  There a re a few that have lighter, even neon yellow leaves. They are all super easy to grow.
Below is a list of pothos house plants for sale online from our top rated online nurseries.  Click on any product to view their lowest prices.  Availability and prices are updated every day.
In some cases we will link to their product on their Amazon online store. We only do this when you can get a better deal on the shipping cost.
Most Popular Pothos House Plants For Sale Online
(click on any product to view prices)
We have either ordered, visited or worked with over 30 online nurseries. We strive to compare prices from online plant nurseries that we have verified send the highest quality plants at the lowest prices.  Keep in mind that we may receive commissions when you click our links and make purchases. However, this does not impact our reviews, price comparisons or the price you pay. We try our best to keep things fair and balanced, in order to help you make the best choice for you.