Nature Hills Nursery Grade:
D
Overall Rating:

64.5
Top 20 Rank:
Not Ranked
Recommendation: Their prices are too high. It is our opinion that you can get the same plants at better prices elsewhere.
Website:  www.naturehills.com
Nature Hills Nursery Location: Omaha, NE
Disclosure: I was paid as a marketing consultant for  Nature Hills Nursery in the past.
You can read details on what each category we rate and how we score it here.
Nature Hills Nursery Review
NOTE: Nature Hills Nursery has dropped out of our top 20 rankings. We will continue to monitor and update the review as we feel it will help you.
This kind of represents our overall confusion about what the heck is going on at Nature Hills. They actually have a 1-gallon plant priced higher than a 2-gallon  That is crazy!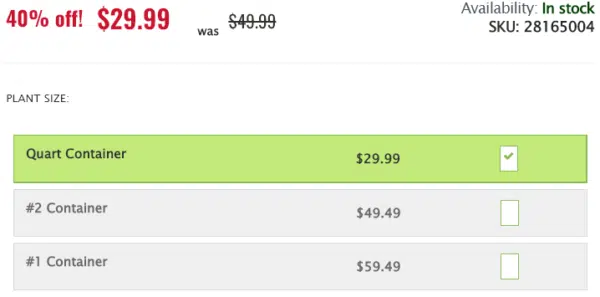 It's also not a good sign when competitors start comparing their ship times & prices against yours. There's now Nature Hills competitors that offer next business day shipping so when Nature Hills says; Ships 10 to 14 days (weather permitting) it's pretty bad. Nature Hills ship costs are also on the high end which can be up to 50% of your plant cost.
Four things stood out when we looked at their site recently.
They have added a LOT of sizes. Over 10 different options on one evergreen plant with some listed twice at different prices.
As we stated above, their prices are outrageously high. 
It appears they're taking your money now for bareroot plants but it says; Ships in Spring, 2023 (weather permitting) .  Almost everything else says; "Ships 10-14 days, weather permitting".  It's pretty common for most online nurseries to ship within a few business days. Having a relatively vague ship time is not very comforting.
They charge a 10% "re-stocking" fee if you try to cancel. It jumps to 40% if you want to return an item. What a racket. They don't tell you specifically when it will be shipped until after your order. If you don't like it, They will charge you 10% to cancel the order.
Overall, Nature Hills prices are definitely on the high end. Keep in mind that Nature Hills is not a real nursery with their own fields, taking care of all the plants. They are a reseller. Nature Hills sends orders to real nurseries around the country to ship your plants. Just recently we saw a 3 gallon maple tree selling for $114.81. That is a bit high. Especially when you consider you can but a 5-gallon Autumn Blaze from Perfect Plants Nursery for just $69.95
There are a few things they have updated or added that improves the user experience.  They added some information to help you understand the sizes they list.  Potted plants are listed as a number.  #1, #3, etc. They added a video to help you understand what the heck that all means.
Unfortunately the information isn't some easy to review graphic, but a 3+ minute long video.  I know the host of the video.  Super nice guy & very knowledgeable. Brevity, however, is not his best friend.  It's a bit ironic that the video pops up if you click on text that says; Confused on sizing? Good luck trying to pay attention to the video.
We saw a new disclosure on a product that had us scratching our heads. Here's a screenshot:

This was on a product that was clearly rated for our grow zone. Then it says; "verify your shipping zone in the header above". The only problem is that there was no header above with any type of zones. Extremely frustrating.
Maybe they were just testing this? We have not seen it on any other products. 
Is This True? Nature Hills slogan is 'America's Largest Online Plant Nursery'. They do boast one of the larger selections of plants online but we have found others with just as many plants for sale.  We know for a fact that they are not the largest nursery in terms of sales. There's also the fact that they aren't a real nursery.
It's surprising no competitors have contested their claim. Keep in mind that Nature Hills is a drop-shipper, not a real nursery. They send orders to 12+ nurseries around the country. It's much easier to offer a lot of choices when you're not actually taking care of the plants.
The downside to being a drop-shipper is higher prices, and the plants you order potentially coming at different times from different places around the country. In our opinion, Nature Hills prices are higher than most other online nurseries.  In fact, there's a competing online nursery now offering a low price guaranty compared to Nature Hills prices.
Nature Hills pricing is also a bit odd. And the regular price changes depending on the promotion.
We saw a 1-gallon boxwood shrub on sale at $51.95. According to the site that 1-gallon plant "WAS" $71.93. Paying over $50 for a 1-gallon plant is crazy. You can get a 2-gallon boxwood delivered from Home Depot for just $32.98. Shop Home Depot here.
Here's an example from last spring. $90.53 seems like an odd number for their "regular price". But here's the thing, in December the "regular price" was $89.69. It was 20% off back then for a "sales price" of $70.95. Now it is 15% off for a "sales price" of $76.95.
In spring, they had a 2-gallon container Lavender Twist Weeping Redbud on sale for $129.59. $130 for a 2-gallon tree is crazy high. A local garden center has 4 to 5 foot redbud trees in 3-gallon containers for $58.95. All we're saying is, shop around before buying here.
Ordering bare root is always risky. You're spending a lot of money to buy a dormant bare root plant that has been sitting in a cooler since they dug it out of the ground at the first hard frost in the fall. They have added a pop-up image if you mouse over any bare-root product.  It's very helpful to understand what bare root is. The pop-up was first used a few years ago. It's nice to see they brought it back.
It looks like Nature Hills Nursery made have made a few updates to the terms & conditions with more of the dreaded all-caps language.
Nature Hills also has a page dedicated to its plant guarantee. Their policy if your plant(s) don't make it still has some hoops you might need to jump through; "Nature Hills Nursery, Inc. reserves the right to request a soil sample for evaluation."  Then, if they do approve your loss, they don't offer refunds so you can't get your money back. Instead you get a 50% store credit for the cost of the plant(s). "We don't offer refunds…" "Nature Hills Nursery, Inc. will replace any plant that dies during the first year upon payment of one-half of the current selling price plus normal shipping and handling."
You also need to be aware of the language if you purchase the 1 year warranty; "Upon receipt of picture(s), we will issue a 100% store credit (valid for one year) for the cost of the plants only. Garden Center products do not qualify. Any destruction of plants resulting from livestock, drought, insecticides or herbicides, fires, floods, etc. are not covered. Guarantee does not include shipping cost. Warranty credit must be used in its entirety in a single transaction."  And you can't order online.  You have to call in.
The site is SLOW! It takes forever for some pages to load.
We've been running monthly tests using the same service Google uses to test how fast or slow a website runs.
The tests we ran over a year ago indicated the site was slow. We ran 6 tests and it took between 6 and 11 seconds to finish loading a single web page. The website speed testing service had a pretty long list of issues that slowed the site down.
We ran tests again on 2 separate days at the end of spring with similar results as before. It took an average of 11.4 seconds to load a product page. Their overall grade was an F. 
It's frustrating for you, as a user, to experience a slow website. It was equally frustrating for me, when I served as Nature Hills Marketing Director, to know what specifically the slow site issues were and never get them fully fixed. I guess some things never change.
Nature Hills selection & sizes available are above average. You just may not be able to easily find everything they have in stock. This has been an ongoing issue for months. I can see that they are constantly tweaking things but it isn't fixed.
Nature Hills Nursery is still using a third-party review service called Bird Eye.  Bird Eye Nature Hills reviews only shows positive reviews for Nature Hills Nursery.  Bird Eye lists no 1 or 2 star reviews. The discrepancy we mentioned last time regarding Shopper Approved still exists.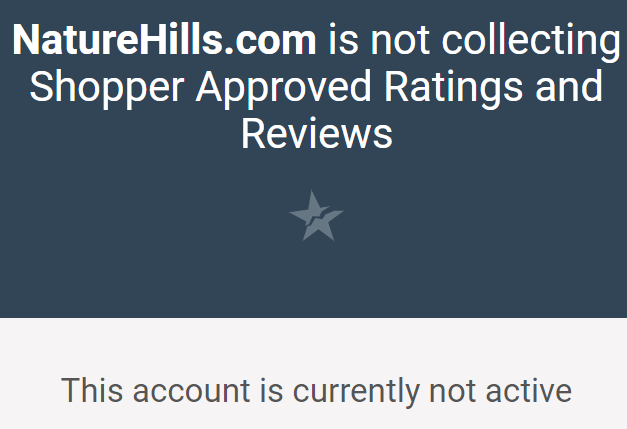 Source:  https://www.shopperapproved.com/reviews/NatureHills.com/
We searched Nature Hills on a different search engine (other than Google) and had another surprise from a company called Foursquare. This box was right on top in the middle of the page: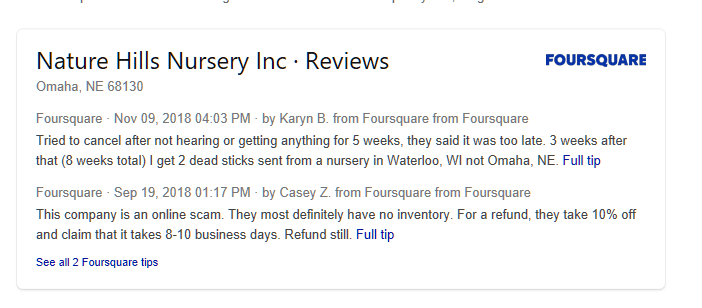 For as long as the website has been around, there are not as many product reviews as you would expect. 
156 BBB Complaints With a D Grade
That is a LOT of complaints. That's the most for any nursery we monitor. Most of the Nature Hills responses seem more argumentative than working towards an amicable resolution. You can read BBB complaints for Nature Hills here.
Google reviews for Nature Hills Nursery were a little harder to find than they used to be. We had to Google "Nature Hills Nursery, Inc. location".  Then their reviews exploded. They doubled in just a few months. 2,450 Google reviews with a 4.2 rating. A bit skeptical that all the new reviews are organically created. You can view Nature Hills Google reviews here.
Blue Chinese Wisteria Tree Unboxed!
Nature Hills boast that the Blue Chinese Wisteria tree is their best-selling plant. We ordered a 3-gallon Blue Chinese Wisteria tree from Nature Hills spring of 2018.  You can view pictures of what we received and the complete product review here. Having worked there, we will also reveal a few other tidbits we know about their best-seller.
The picture Nature Hills uses for the Blue Chinese Wisteria is just a wee bit different in bloom color than what the original photo looked like.
They also updated their copy due to customer complaints about the blooms not being as blue as their picture.  The description now says the blooms can range from 'sky blue to rich lavender'.
Nature Hills can offer a lot of products since they send orders to nurseries around the country. If you can't find something in particular, check the listing below.  If anyone has it, they should. In our opinion, that is what Nature Hills is good for; Buying plants you can't find anywhere else.
What were the red flags?
It appears they increase prices when they offer better free ship promotions. We saw a free shipping promotion a while ago for orders above $49. All the product's prices, however, were raised. You weren't really getting any better deal. To make matters worse, the coupon code to get free shipping wasn't working.
As we mentioned above, Nature Hills site search results for evergreen shrubs were quite different than the evergreen shrub category page.
Reviews. For having been around 16+ years, there are not a lot of reviews of Nature Hills Nursery products. And they seem to still use a service to suppress bad reviews.
Nature Hills is a drop shipper.  They don't have any fields, they send your order to other nurseries for shipping. That's why your plant(s) could come from different locations at different times. They don't seem to let anyone know where your plant(s) are coming from or when.
You can also buy some of the same plants found on naturehills.com cheaper than the actual sources. We have received orders placed on Nature Hills from:
Waterloo, WI     www.McKayNursery.com
Zeeland, MI       www.GardenCrossings.com
Winters, CA       www.FourWindsGrowers.com
Monticello, FL   www.PlantMeGreen.com
Frequently Asked Questions
Where is Nature Hills Nursery located?
Nature Hills Nursery is located in Omaha, NE at 2336 S 156th Circle, 68130
Can I pick up my order at Nature Hills?
No. All orders placed on naturehills.com are sent to and shipped by nurseries across the country.
Does Nature Hills Nursery guarantee their plants?
Nature Hills guarantee states; We do not refund money. They will, in certain instances, offer a replacement for 50% of the plant cost plus shipping.
Are there any BBB alerts for Nature Hills Nursery?
Yes. The Better Business Bureau has the following alert posted - Pattern of Complaints: BBB files indicate that this business has a pattern of complaints. Complaints allege that when they received their product it was dead and requested a refund. Consumers claim product was not received in a timely manner and requested a refund.
Disclaimer
All the information on this website – www.BuyEvergreenShrubs.com – is published in good faith and for general information purpose only. Buy Evergreen Shrubs does not make any warranties about the completeness, reliability and accuracy of this information. Any action you take upon the information you find on this website (Buy Evergreen Shrubs), is strictly at your own risk. Buy Evergreen Shrubs will not be liable for any losses and/or damages in connection with the use of our website.
About the Author