There are quite a few Barberry varieties available.  Evergreen Barberry varieties are known for their interesting year round color.  Some popular Barberry shrubs varieties are semi-evergreen.  In other words, they will lose some of the their outer leaves in warmer grow zones during winter. Barberry shrubs are considered deer resistant. Birds usually flock to Barberry shrubs for the berries. Some birds will nest, using the thorns as place most predators won't want to mess with. Most Barberry shrubs are slow growing.  Barberry shrubs are commonly used for foundation plantings to give you something different than green.  Be careful planting them around a patio, most of them have sharp thorns!
Japanese Barberry, also known as Red Barberry is now considered invasive in some states. Many of the newer varieties have been bred to be sterile. In other words, no seeds, preventing invasive spreading. Despite these varieties being sterile, they still produce flowers and berries.
Most Popular Barberry Shrubs
Click on any product to view the lowest prices from top rated online nurseries.
| | | |
| --- | --- | --- |
| Name | Grow Zones | Height / Width |
| Darwin Barberry (Berberis Darwinii) | 7 to 9 | H: 5-8'  W: 4-6' |
| Japanese (Berberis thunbergii)  aka Red Barberry | | H: 3-4' W: 7-9' |
| Orange King (Berberis Trigona 'Orange King') | 6 to 8 | H: 4-5'  W: 4-5' |
| Rosemary (Barberry Berberis x stenophylla) | 6 to 9 | H: 1-2'  W: 1-2' |
| William Penn (Berberis X Gladwynensis 'William Penn') | 6 to 9 | H: 4'  W: 4' |
| Wintergreen  (Berberis julianae) | 6 to 9 | H: 6-8' W: 6-8' |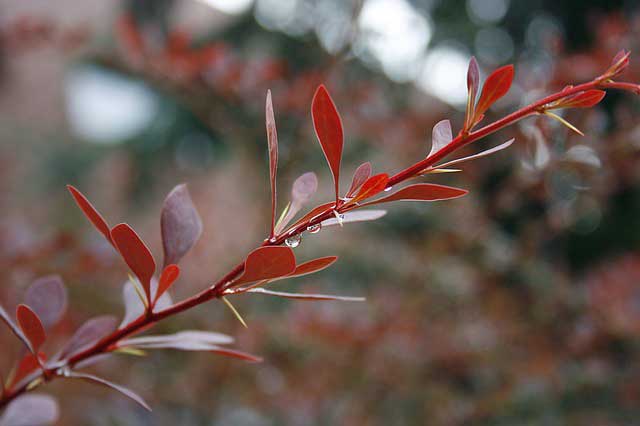 Planting Tips & Care for Barberry evergreen shrubs:
For a fascinating, easy-to-grow yard & landscape evergreen shrub, the barberry is a magnificent decision! Barberry shrubs are outstanding for their rich shading and evergreen nature and are incredible shrubs for borders around natural areas or a walkway. They can also be used as small hedges. 
Figuring out how and where to plant your Barberry evergreen shrubs is a crucial first step to help ensure success. Make sure to plant them in full or partial sun with well-draining soil. Always prepare the dirt before planting to stimulate root development. Water your new shrubbery well for the first few weeks until they have a chance to get established. 
As your Barberry shrubs grow, they require little attention on your end. They require occasional watering and treatment with an appropriate fertilizer, and you don't have to prune them. In the event that you do need your barberry to hold a specific shape, basically prune them in the pre-spring before new development grows.