Free Ship $129+

Free Ship $119+

Free Ship $130+

Rosy Glow Barberry for sale online. Prices are updated daily. Clicking on a 'Shop Now' button will open a new tab to the website listed.
Description
Colorful Barberry That is Super Easy to Grow
Rosy Glow Barberry offers unique coloration of purple, pink and red. It grows in partial to full sun, but full sun brings out the best colors. The Rosy Glow's natural rounded shape needs little to no pruning, and it is deer resistant. If you want to just do some clean up trimming, prune Rosy Glow Barberry in late winter, before any new growth emerges.
Rosy Glow growth rate is slow. They tolerate moist soil conditions and will do just fine in partial shade although you will get more color variations if planted in full sun. Once established, Rosy Glow Barberry shrubs will tolerate dry conditions.
Rosy Glow Barberry is used as a single specimen plant or in mass planting. Commonly used a hedge, a barrier, or foundation plant. The Rosy Glow is also good as a shrubby ground cover for large areas.
| | |
| --- | --- |
| Botanical Name | Berberis thunbergii 'Rose Glow' |
| Mature Height | 4 to 5 feet |
| Mature Width | 3 to 4 feet |
| Classification | Broad leaf deciduous shrub |
| Sunlight | Partial to full sun |
| Soil Condition | Any well drained slightly acidic soil |
| Watering | Water well until established. |
| Grow Zones | 4 to 8 |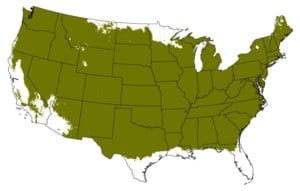 USDA Hardiness Zones 4 to 8
Rose Glow Japanese Barberry Care
Plant Rose Glow Japanese Barberry in full sun for best results. The Barberry needs regular watering, at least weekly. The shrub needs little pruning, at most once each spring. If growing Rose Glow shrubs in a formal hedge, you might need to prune to shape a couple of times a year.
Rose Glow Japanese Barberry Spacing
Enjoy a natural and amazing red hedge with Rose Glow Japanese Barberry. Place each shrub just under 4 feet apart from center of your planting hole to give them room to eventually grow together.
About our price comparisons:
We have either worked for, visited (to evaluate) or ordered from over 50 online garden centers. We strive to compare prices from online nurseries that we have experienced send the highest quality plants at the lowest prices.  Keep in mind that we may receive commissions when you click our links and make purchases. However, this does not impact our reviews, price comparisons or the price you pay. We try our best to keep things fair and balanced, in order to help you make the best choices.