Dwarf Globe Blue Spruce for sale online from our top rated online nurseries. Prices & availability updated daily. Clicking a 'Shop Now' button will open a new tab to the store listed.
Description
Dwarf Globe Blue Spruce is a Unique, Low Maintenance Dwarf Shrub
Dwarf Globe Blue Spruce is super easy to grow that needs little maintenance.  Available as both a shrub and in a tree form, Dwarf Globe Blue Spruce has dense foliage with blue to silver needles often described as a sapphire color. They are great in containers or in a corner of your yard or garden as a unique, easy-care shrub. Dwarf Globe Blue Spruce are pretty hardy. They can handle full sun even during southern summers and is extremely cold-tolerant as well.
Pruning Dwarf Globe Blue Spruce should be done in late spring. Prune lightly just to keep its shape. The growth rate for the Dwarf Globe Blue Spruce is considered slow. Expect roughly 6 inches of new growth per year.
| | |
| --- | --- |
| Botanical Name: | Picea 'Globosa' |
| Average Height: | 3 – 4 feet |
| Average Width: | 4 – 5 feet |
| Sunlight: | Full sun |
| Spacing: | 4 feet |
| Foliage: | Blue – silver |
| Pruning: | Prune in late spring to keep shape |
| Soil: | Any soil that is well drained |
| Grow Zones: | 3 to 8 |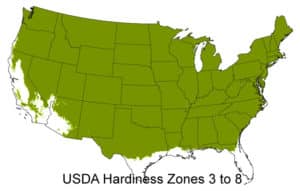 Frequently Asked Questions
How fast does the Dwarf Globe Blue Spruce grow?
This Dwarf Spruce grows 2-6 inches per year making it easy to maintain.
Is the Dwarf Globe Blue Spruce deer resistant?
Yes, the beautiful foliage of the globe shaped Dwarf Blue Spruce is deer resistant.
Can you prune a Dwarf Globe Blue Spruce?
Yes, but carefully. The Dwarf Globe Blue Spruce can be pruned, but never back to bare wood as it will not grow new foliage on bare wood.
About our price comparisons:
We have either worked for, visited (to evaluate) or ordered from over 50 online garden centers. We strive to compare prices from online nurseries that we have experienced send the highest quality plants at the lowest prices.  Keep in mind that we may receive commissions when you click our links and make purchases. However, this does not impact our reviews, price comparisons or the price you pay. We try our best to keep things fair and balanced, in order to help you make the best choices.
Dwarf Globe Blue Spruce Best Prices | Home Delivery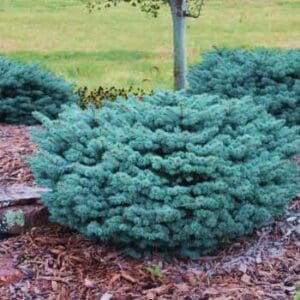 Why pay more? Get the lowest prices on Dwarf Globe Blue Spruce and other evergreens for sale from top rated online nurseries. Compare & Save!
Product SKU: 1381