Free Ship $119+


Free Ship $119+

Spring Bouquet Viburnum for sale from top rated online nurseries. Clicking on a 'Shop Now' button will open a new tab to the website listed.
Description
Spring Bouquet Viburnum is Super Easy to Grow
A delightfully fragrant flowering shrub, the exquisite beauty of the Spring Bouquet Viburnum shrub is a great addition to any yard.
These medium to large size flowering plants offer almost everything a landscaper could want for an ideal plant candidate. It grows to nice manageable size of 4-6 feet both high and wide, making it great for property or border hedges, it is low in upkeep meaning even with mass plantings the work on your end is minimal, and it produces deliciously sweet flowers which bloom in the early spring growing season.
All this while being a notably tough little plant that's resistant to drought when mature and well established. With showy flowers in spring and blue to black berries follow that birds will flock to.  Spring Bouquet Viburnum are easy to grow, have no major disease or pest problems and are even deer resistant.
| | |
| --- | --- |
| Botanical Name | Viburnum tinus "Spring Bouquet" |
| Type | Evergreen |
| Sunlight | Full Sun, Part Shade, Part Sun |
| Mature Height | 6 to 8 feet |
| Mature Spread | 4 – 6 feet |
| Soil Type | well drained |
| Drought Tolerance | Good once established |
| Flower Color | Pink fading to white |
| Grow Zones | 7 to 9 |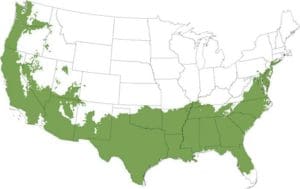 USDA Hardiness Zones 7 to 9