Free Ship $125+

Free Ship $130+


Free Ship $119+

Hetz Midget Arborvitae for sale from our top rated online plant nurseries. Prices are updated daily. Clicking on a 'Shop Now' button will open a new tab to the online nursery listed.
Description
Hetz Midget Arborvitae is a Dwarf Evergreen with Natural Round Shape
Hetz Midget is one of the most popular dwarf arborvitae.  As a dwarf arborvitae, Hetz Midget keeps a natural globe shape that rarely needs pruning. Considered a needle 'conifer' evergreen but it has typical soft texture arborvitae are well known for. Hetz Midget shrubs can tolerate clay soils & is easy to keep up. Growth rate for the Hetz Midget is slow.  They grow best in partial to full sun. Tolerates urban pollution. Hetz Midget is NOT considered deer resistant.
Hetz Midget thuja tolerates more ranges of soil & sun then other arborvitae shrubs. Hetz Midget would be great in mass plantings along a border.  Use them as an accent in your back yard. Some even use them in rock gardens. Hetz Midget is great for smaller, urban yards.  It can even be used in a container for a balcony or small porch.
Hetz Midget Plant Facts:
| | |
| --- | --- |
| Botanical Name | Thuja occidentalis 'Hetz Midget' |
| Grow Zones | 3 to 7 |
| Mature Height | 3 – 4 feet |
| Mature Spread | 3 – feet |
| Soil Type | Widely Adaptable |
| Sun Exposure | Full Sun |
| Growth Rate | Slow |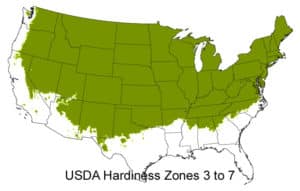 Frequently Asked Questions
How tall does a dwarf arborvitae get?
There are a couple of different varieties of dwarf arborvitae. The Hetz Midget grows between 3 to 4 feet tall and wide.
How and when can I prune Hetz Midget Arborvitae
Minor pruning to just trim off new growth can be done any time of the year. Major pruning is rarely needed. More extensive pruning should be done in late winter, before any new growth emerges.
About our price comparisons:
We have either worked for, visited (to evaluate) or ordered from over 50 online garden centers. We strive to compare prices from online nurseries that we have experienced send the highest quality plants at the lowest prices.  Keep in mind that we may receive commissions when you click our links and make purchases. However, this does not impact our reviews, price comparisons or the price you pay. We try our best to keep things fair and balanced, in order to help you make the best choices.