Updated September 1, 2020
Planting Tree Grade: 

B
Overall rating:

83
Website:  www.plantingtree.com
Location: Mooresville, NC

Why do we list location? This is so you can know, in most cases, where the evergreen shrubs you buy are coming from. 
Breakdown of scores from each of the 11 factors we evaluate. You can read details on what each category means and how we score it here.
| | |
| --- | --- |
| Category | Rating |
| Years site Active | 8 |
| Prices | 8 |
| Return policy | 7.5 |
| Reviews | 9 |
| Warranty/Guarantee | 7.5 |
| Selection | 8 |
| Range of sizes | 9 |
| Ship Times | 9 |
| Ship Costs | 9 |
| Usability | 9 |
| Red flags | -1 |
| TOTAL SCORE | 83 |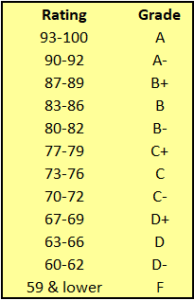 Planting Tree Nursery Review
The Planting Tree rating comes in at 83 this month with a B grade.  That keeps The Planting Tree as one of our top tier online nurseries. The website looks like it has undergone some changes this summer. There's a few things that made us pause but overall the changes are a definite improvement.
We placed an order in spring of 2019 at plantingtree.com. We posted pictures and a complete review on our blog: Unboxing Plants From Planting Tree. We were happy with the plants we received but the boxing wasn't the best compared to what we have received from other online nurseries.
The website is relatively new, dating back to just 2014. This makes it the one of the youngest of the top rated online nurseries so they suffer a bit in the rating score for years in service.  Their domain authority also seemed to take a pretty big hit late in 2018.  It has recovered a bit since then but they still have one of the lowest of all the top nurseries we monitor.
They also seem to either be related somehow to Fast Growing Trees or have done a great job knocking them off.  The 2 operations are in the same metro (Charlotte, NC), about 20 miles apart. We tried calling them to ask about their domain authority and any association to Fast Growing Trees.  We left 2 messages but never heard back from anyone. The 'About Us' page still references two long-time friends owning the company.
Huge selection of evergreen shrubs! Planting Tree's selection of evergreen trees & shrubs seems pretty darn good.  When we checked on August 31st they listed over 90 evergreen shrubs and 21 evergreen trees for sale.  It's an impressive collection considering how hot of a summer it has been, that's a lot of plants to take care of. They offer a variety of sizes,  mostly 1 and 3 gallon containers.  They do have a pretty cool page for plant sizes that includes pictures of the various containers.  
We have proven before that just listing a tree height can be deceiving. You can read our story here. Most of their trees at PlantingTree.com are sold just by height. We couldn't find anywhere where they say the size of the potting container. We strongly recommend calling before you buy any trees solely off a height listed. Find out the size of the container. As a general rule a 4 foot tree will be a lot more developed in a 3-gallon versus a 1-gallon container.
Planting Tree has a decent number of product reviews and they seem legit.  Being so new hasn't provided much of a chance to accumulate too many reviews yet.
Google customer reviews for Planting Tree are pretty good. They have a 4.2 average star rating out of 5 with 68 reviews. You can read Planting Tree Google reviews here. 
The warranty from Planting Tree is average at best. You need to notify them within 1 day of delivery if there is shipping damage.  They will only offer a replacement if it dies within 5 days. If your plant(s) don't make it within 45 days they offer a 50% store credit. 
Planting Tree offers a 1 year warranty for a separate cost, a popular feature many online nurseries have started to offer in the past few years. Kind of arbitrary but you need to prove you followed their planting & care guidelines.  If they determine your claim qualifies, they will offer a one time replacement, excluding ship costs.
Just to make sure it is very clear, they have a separate page for their refund policy. To their credit, it's not bogged down with a lot of legalese.  It basically says you can't get a refund... "all sales are final. In the event a living product is rejected on delivery we will not credit back your account. There will be no refunds."
When we checked on September 1st PlantingTree.com was offering free shipping on orders over $119. The Planting Tree even has a page that shows you delivery times from their location to anywhere in the mainland U.S.  The ship costs are a bit steep if your order is under $119 but we have seen worse.
Our bottom line... with the quality of the plants we ordered, we would buy from the Planting Tree again.
What were the red flags?  
The primary negative, as we mentioned above, is their warranty & return policies.  It leaves a lot to be desired.
Planting Tree Unboxing Photo Gallery
Disclaimer
All the information on this website - www.BuyEvergreenShrubs.com - is published in good faith and for general information purpose only. Buy Evergreen Shrubs does not make any warranties about the completeness, reliability and accuracy of this information. Any action you take upon the information you find on this website (Buy Evergreen Shrubs), is strictly at your own risk. Buy Evergreen Shrubs will not be liable for any losses and/or damages in connection with the use of our website.