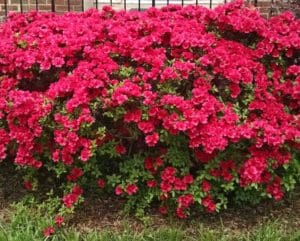 Azalea (Rhododendron) evergreen shrubs
Azalea shrubs for many conjure up images of striking colorful shrubs lining the golf course during The Masters in spring. Azaleas are no longer the single bloom season, southern evergreen flowering shrub many are familiar with.  The introduction of  Encore Azaleas and then the Bloom-A-Thon line-up has brought months, not weeks of blooms.  There are now azaleas that are hardy up to grow zone 4.
Prices are checked daily and availability weekly.  
Most Popular Azaleas:
Click on any product to view the lowest prices from top rated online nurseries.
Azalea Shrubs Frequently Asked Questions:
Do azaleas need full sun?
No, not neccsarily. They need at least 4 hours of sun, perferrably morning sun, They will do okay in shady, woodland areas but will not have as many blooms.
How and when should I prune azaleas?
Azaleas are best pruned in late winter. Azaleas can handle heavy pruning to as low as 12 inches from the ground. Just don't expect blooms for a few years if you do that. Azaleas rarely need pruning unless it is to remove some dead wood or removing excess growth that may be hanging over a walkway.
How tall do azalea shrubs get?
There are a lot of choices for homeowners today. There are dwarf varieties that get no more then 3 feet tall while others can grow up to 20 feet tall.
When is the best time to plant azaleas??
Plant them in late spring or early fall to get the best results the folloiwng year. They key is planting them to allow the most root growth. Dig the planting hole twice as wide and use some lose potting soil to start filling in. This provides your azalea roots plenty of easy room to expand. Azaleas also thrive in acidic soil. There's plenty of acidic soils & fertilizers made just for azaleas available at most garden centers.
Top 25 nurseries ranked first to worst: Click here to see which nurseries we review and their latest rank.