Free Ship $129+

Free Ship $125+

Bloom-A-Thon® Lavender Azalea for sale from top rated online plant nurseries. Prices are updated daily. Clicking on a 'Shop Now' button will open a new tab to the website listed.
Description
The Bloom-A-Thon® Lavender Azalea is a Proven Winners Color Choice selection. This  is a very rare purple flowering rhododendron. The Bloom-a-thon Lavender Azalea shrub not has hard a hard to find bloom color, but it will give you these unusual blooms up to 5 months a year. It will re-bloom continuously for spring, summer & fall.  This azalea is considered a semi-evergreen. This means the inner branches will drop their leaves in winter, but the outer branches keep their leaves all year long.
The bushes are great in mass plantings in natural areas that get shade from trees above. At a mature height of only 3 to 5 feet, these flowering evergreen shrubs also make great medium size hedges and borders. With blooms for so many months, these azaleas have also become popular to use in planters.
This Bloom-a-thon azalea can handle full shade to partial sun. Just plant them will they won't get afternoon sun. These Bloom-a-thon Azaleas are disease resistant and take very little care in order to enjoy. All Bloom-A-Thon azaleas also do great in hot conditions and are heat tolerant even during the hottest summer days in southern states all the way down through grow zone 9.
| | |
| --- | --- |
| Botanical Name | Rhododendron BLOOM-A-THON 'RLH14P19' |
| Mature Height | 3 – 5 feet |
| Mature Spread | 3 – 4 feet |
| Soil Type | Widely Adaptable, Well Drained |
| Moisture | Average |
| Sun Exposure | Full Shade, Partial Sun |
| Growth Rate | Medium |
| Grow Zones | 6 to 9 |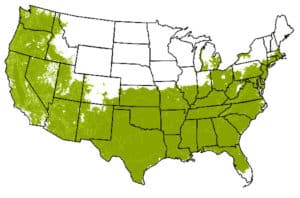 USDA Hardiness Zones 6 to 9