Free Ship $130+

Description
Sun Loving Dwarf Thuja Thrives in Humidity, Cold & Wet Soil
Golden Globe Arborvitae is a small, vibrant evergreen shrub. Prefers full sun but can deal with some shade just fine. Can handle very wet areas. Thrives in high humidity.
Because of the small, round shape, Golden Globe are great additions to gardens and look great in containers.  A row of them would  look great along a walkway. Some use them to create a smaller hedge. Landscapers plant darker evergreens around Golden Globe to create contrast. The distinct golden yellow color and natural round shape will make the Golden Globe Arborvitae stand out in any yard or garden.
Golden Globe Arborvitae Plant Facts:
| | |
| --- | --- |
| Botanical Name | Thuja occidentalis 'Golden Globe' |
| Mature Height | 2-4 ft. |
| Mature Width | 2-4 ft. |
| Sunlight | Full – Partial |
| Soil Conditions | Medium |
| Drought Tolerance | Moderate |
| Grow Zones | 2 to 8 |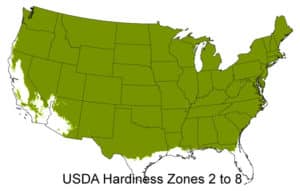 Golden Globe Arborvitae prices from our top rated online plant nurseries. Prices are updated daily. Clicking on a 'Shop Now' button will open a new tab to the website listed.
Golden Globe Arborvitae Frequently Asked Questions
Is Golden Globe cold hardy?
Yes! It is rated for grow zone 2, making it one of the cold hardy evergreen shrubs.
How big do Golden Arborvitae get?
Golden Arborvitae are considered dwarf shrubs, getting no more than 4 feet tall and wide.
How fast does Golden Globe Arborvitae grow?
Growth rate for Golden Globe Arborvitae shrubs is considered moderate. That means you can expect 12cto 24 inches of new growth per year.