Updated: August 1, 2021
Brighter Blooms Grade:
C+
Overall rating:
79.5
Top 25 Rank: 9
Website:  www.brighterblooms.com
Location: Fort Mill, SC

Why do we list location? This is so you can know, in most cases, where the evergreen shrubs you buy are coming from. 
Disclosure: I have a previous relationship working for the parent company that used to own BrighterBlooms.com and Fast-Growing-Trees.com. 
Breakdown of scores from each of the 10 factors we evaluate. You can read details on what each category means and how we score it here.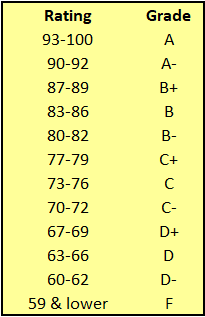 | | |
| --- | --- |
| Category | Rating |
| Years Site Active  | 8 |
| Prices | 7.5 |
| Return policy | 7.5 |
| Reviews | 8 |
| Warranty/Guarantee | 8 |
| Selection | 8.5 |
| Range of sizes | 8.5 |
| Ship Times | 10 |
| Ship Costs | 7.5 |
| Usability | 9 |
| Red flags | -3 |
| TOTAL SCORE | 79.5 |
Brighter Blooms Review 
Brighter Blooms Nursery rating came in 1.5 points higher at a 79.5. That keeps their grade at a C+. Overall, Brighter Blooms ranks number 9 in our nursery rankings.
Brighter Blooms Nursery has a decent selection of evergreen trees & shrubs.
Their field is on the North & South Carolina border in a suburb of Charlotte, NC.  This allows them to carry a pretty wide selection of evergreens suitable for most areas of the country.  
One of the problems is the pricing seems to be a bit all over the place.  Some of their prices also seem to have increased recently. We found a juniper groundcover shrub that was $49.99 for a 1-gallon size container and $79.99 for a 3-gallon container. Unless they carry something you cannot find locally, you'll probably get a better prices at local garden centers.
Brighter Blooms implemented a number of changes about a year ago. In our opinion, most of the updates are good for you. We like their new look. it appears Brighter Blooms is constantly testing & trying to improve the user experience. There's also a lot of content on each product page for planting, care, pruning, etc.
Brighter Blooms (www.brighterblooms.com) and Fast Growing Trees (www.fast-growing-trees.com) are owned by the same company. They are a classic online nursery in that they have their own fields where they bring in & maintain their plants until sold.  They're not open to the public, all sales are online (or over the phone). Brighter Blooms Nursery is relatively young. They ranked 14th out of 25 sites reviewed for years active.
Trees Just Listing Heights Are Bad
Brighter Blooms has a decent selection of sizes.  When e checked on July 30th, they had 51 evergreen trees listed for sale. Seems from what we checked, most of their trees only list a height but not container size. That's a big concern. We bought a 3 to 4 foot tree from their sister site and it showed up rooted into a 4 inch pot. View unboxing here. Free shipping seems to be offered most of the time but with varying minimum order amounts to qualify.  You can view all website promotions & coupons here.  
We didn't review every product but it seems they're tweaking prices… a lot.  Guessing they keep pretty good control on inventory as well as competitive pricing and adjust accordingly. We found evergreen shrubs as low as $19.99 when we checked on July 30th.  
We actually couldn't find a category just for their evergreen shrubs. We had to use site search to view them all in one place.
We automatically update prices every hour. We currently list price comparisons on over 700 products. Simply look up any product you're interested in at Brighterblooms.com and see if it is less expensive at another top rated nursery.
Brighter Blooms copy for the 30 day guarantee was changed a few months ago, duplicating what is on their sister site, fast-growing-trees.com.  It states; "If you have plant issues within the first 30 days give us a call. We will review your concerns and provide you with a one-time replacement if necessary. Replacement plant shipping cost is at the customer's expense."  
Brighter Blooms Google reviews average rating is at a 4.3. They also use a third-party review service called Trust Pilot. There's 3,809 reviews with an average of 3.6 stars You can read those reviews here.  Most of the complaints seemed centered on customer service, but there were two that kind of stood out to us. Brighter Blooms and their sister site Fast-Growing-Trees.com have made it a major emphasis to claim they don't ship bare root. According to 2 Google reviews, they put bare root trees in a burlap bag with some loose dirt. One even showed pictures where Brighter Blooms had pruned the roots.  Here's what that customer said; "they pruned off almost all the roots before stuffing it in a burlap bag full of dirt."
A friend bought a pink dogwood tree from their sister site, fast-growing-trees.com. You can vie pictures of the unboxing and the burlap sack they use here.
Brighter Blooms also uses a third party service to capture reviews and Brighter Blooms is getting hammered pretty hard on some of the more recent reviews.  You can read them here.
The 1 star reviews seems mixed between complaints about product quality & customer service. About the only positive spin I can think of is at least they don't try to hide from bad reviews. I used to work for an online nursery that not only suppressed negative reviews but also had staff place fake product reviews.  That's bad.
Speaking of pruning; Brighter Blooms 'Terms of Service'  is long and says this; "Certain plants may be root pruned or have excess dirt removed in order to save customers money."  Yikes! I think they should say in order to save them money. I can't comprehend how pruning roots helps you out. The 'Terms of Service' may be long but it is easy enough to read.  Non of the dreaded, hard to read all caps legalese I despise. 
You should also be aware of BrighterBlooms.com return policy. You will pay a 25% restocking fee, if they even approve a return.  Here's what it says; "A 25% restocking fee will be charged to the customer if the trees are returned in live condition with authorization, within two weeks of receipt".
What were the red flags?  
Listing heights of plants with no container size.
They charge up to 50% of the plant cost for shipping if you don't qualify for free shipping.
Buried in their Terms of Service it says they might prune roots, remove a container and even possibly remove dirt.
Frequently Asked Questions
Where is Brighter Blooms located?
Brighter Blooms Nursery is located at 2621 Old Nation Road in Fort Mill, SC, a suburb of Charlotte, NC
Are Brighter Blooms and Fast Growing Trees the same thing?
The same company owns & operates both websites. They both share the same offices, fields and plants.
Is Brighter Blooms nursery open to the public?
No, they are not. You can, however, place your order on the website or over the phone and pick it up.
Does Brighter Blooms nursery offer free shipping?
Brighter Blooms offers free shipping pretty much all the time. The minimum order required to qualify for free shipping usually fluctuates from week to week.
Disclaimer
All the information on this website – www.BuyEvergreenShrubs.com – is published in good faith and for general information purpose only. Buy Evergreen Shrubs does not make any warranties about the completeness, reliability and accuracy of this information. Any action you take upon the information you find on this website (Buy Evergreen Shrubs), is strictly at your own risk. Buy Evergreen Shrubs will not be liable for any losses and/or damages in connection with the use of our website.