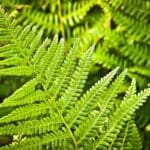 There are literally hundreds of varieties of ferns, including many grown to be indoor houseplants. Ferns are among the most beautiful house plants grown. They have a classic look with their fronds of lacy foliage. They look good in almost any setting.
Indoor Ferns are extremely versatile house plants. They can promote healthy air in your homes by purifying the surrounding air. They're also great in dry winter weather as they also help promote humidity. Ferns are ideal for just about anywhere low light levels are found. Ferns are great as a desk plant and will thrive under the fluorescent light.

We have over 10 years experience in the online plant industry and have only selected the best online stores. We update their lowest prices daily. Click on any product below and we will show you the lowest prices available from our top rated nurseries. Clicking a 'Shop Now' button will take you to that websites product page. 
In some cases we will link to their product on their Amazon online store. We only do this when you can get a better deal on the shipping cost
Most Popular Indoor Ferns For Sale Online
(prices are updated daily)