5 Cheap Landscape Tips Can Add Up to 12.7% to Your Home Value
Certain DIY home projects bring a better return on the money you spend than others. Every list we found online has the usual upgrade projects that are the best and worst for your money in relation to adding to your home value.
One item we never see listed is landscaping. Ask any Realtor and curb appeal is vital. In fact, a home that has good landscaping has a significant price advantage. It can increase the original value ranging from 5.5 up to 12.7%.
Here are 5 tips professional landscapers offer as the ways to easily, and cheaply, increase your home value.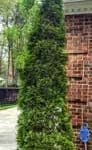 1) Add Vertical Height
Adding height can increase the way your home is perceived.  Using them as a foundation plant near your home can also add a touch of elegance.  Planting one near the corner of a home softens the hard edge of the corner & draws attention upward. Examples include Italian cypress, Sky Pencil Holly and Emerald Green Arborvitae.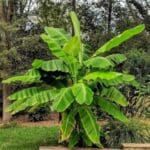 2) Add a touch of the tropics
There are cold hardy palm and avocado trees but our favorite is the Musa 'Basjoo' Banana tree.  It is cold hardy to -10 degrees.  They are easy to grow and add unique, tropical beauty.
Basjoo Banana trees can grow up to 18 feet tall with huge, bright green leaves.  Technically, they are not a tree but a perennial. Crazy at it may seem, they die back to ground level each winter after a hard freeze then bounce back at the first signs of spring.  
3) Plant fruit trees & bushes
Fruit trees and bushes in place of ornamental trees and plants are practical and cheap landscaping ideas that have seen an increase in demand over the past few years. Blueberry bushes have become a popular option as hedges. There are also numerous dwarf and semi-dwarf fruit trees that don't take up much space.
4) Create an outdoor living room
Privacy trees or shrubs can instantly block out the neighbors, increase your property value and help the environment all in one step.  But also consider planting some evergreens around a simple table & chairs, or bench, to create your own outdoor living room. Keep in mind the area you create doesn't necessarily mean high privacy plants. A few containers with evergreen shrubs around a sitting area could create the outdoor living room vibe.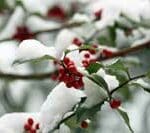 5) Include Winter color
Whether you get snow or not, winters are dull and drab. Add life, interest and value to your home with a splash of winter color.  Holly shrubs with bright red berries are a classic staple for winter interest. Red Twig Dogwood Shrubs lose their foliage but feature bright red stems that provide a splash of color in winter. Other ideas are Firethorn shrubs, Winter Daphne and some cold hardy Camellia's such as Winter Joy and Winter Star varieties.
A clever mix of what's practical and easy to do can lead to a beautiful landscape, increasing your home value.
Please follow and like us: