Free Ship $125+

Free Ship $99+

Free Ship $130+

Emerald Green Arborvitae prices for sale online from our top rate nurseries are updated daily.  Clicking a shop now button will open a new tab to the store listed.
Description
Emerald Green Arborvitae is the Perfect Privacy Tree for Smaller Spaces
Emerald Green (thuja) Arborvitae are considered semi-dwarf. Since they only get 3 to 4 feet wide Emerald Green is a better choice then the popular Green Giant Arborvitae if you have a smaller planting area. It tolerates southern dry spells and is drought tolerant once established.  That's not to mean it doesn't do well in colder climates. In fact, this thuja handles snow & ice better then most.
Thuja Emerald Green is very popular as a medium size hedge. These thuja's top out at just over 10 feet tall and keep a nice uniform width from top to bottom. Emerald Green Arborvitae growth rate is moderate, about 9 inches per year. They grow a little bit slower as they get older and closer to their mature height.
Emerald Green Arborvitae Care
Pruning for the Emerald Green is rarely needed unless you want to keep it even narrower than it is naturally. Emerald Green is also easy to take care of. It has no know disease or pest problems. Emerald Green is also one of the few Arborvitae trees that does not have any bronzing of the foliage in winter.
Although they are considered deer resistant, deer are just about the only pest problem you may have with Emerald Green Arborvitae. They are pretty far down on the preferred menu for deer, so it is uncommon to have issues.
When planting Emerald Green Arborvitae make sure the soil is well drained. They can handle most soil types but is never a bad idea to amend your soil in the planting hole with rich, organic soil or compost. Plant Emerald Green about 3 feet apart to create a lush, green privacy wall.
| | |
| --- | --- |
| Botanical Name: | Thuja occidentalis 'Emerald Green' |
| Average Height: | 10 – 15 feet |
| Average Width: | 3 – 4 feet |
| Growth Rate: | 6 to 9 inches per year |
| Spacing: | 3 – 4 feet |
| Sunlight: | full sun, part sun |
| Soil Conditions: | Very adaptable |
| Grow Zones: | 4 to 8 |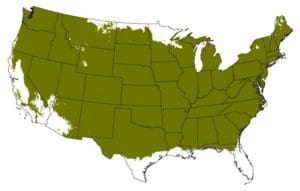 USDA Hardiness Zones 4 to 8
Frequently Asked Questions
How tall do they get?
Emerald Green Arborvitae grow to a mature height of between 10 and 12 feet.
How quickly do Emerald Green Arborvitae grow?
Emerald Green Arborvitae are not fast growing. They are considered to have a moderate growth rate. In other words, you can expect about a foot a year growth in ideal conditions. Most people see between 6 and 9 inches of new growth per year.
Will Emerald Green Thuja grow in shade?
Emerald Green Arborvitae can handle some shade but do not thrive in full shade. Dappled sun, where the sunlight is filtered through the branches of a taller shade tree is okay. Just keep in mind that growing Emerald Green Arborvitae in more shade may slow down the growth rate.
Do Emerald Green Thuja have invasive roots?
The simple answer is no. This is why developers and professional landscapers like to use Emerald Green Arborvitae close to a home, usually at corners to soften the hard edge & provide vertical interest.
About our price comparisons:
We have either ordered, visited (to evaluate) or worked with for over 30 online garden centers. We strive to compare prices from online nurseries that we have experienced send the highest quality plants at the lowest prices.  Keep in mind that we may receive commissions when you click our links and make purchases. However, this does not impact our reviews, price comparisons or the price you pay. We try our best to keep things fair and balanced, in order to help you make the best choices.