Free Ship $129+

Free Ship $129+

Free Ship $130+

Free Ship $99+

Thuja Green Giant Arborvitae for sale online from our top rated nurseries. Prices are updated daily.
Description
Shop Thuja Green Giant Online
 One of the Fastest Growing Trees Used For Privacy
Green Giant Arborvitae (thuja), also known as a Western Arborvitae,  is one of the most popular evergreen trees for privacy and windbreaks. This is because it is fast growing is considered a tough tree that can handle most conditions. Green Giant's have soft green foliage that is thick & lush.
Green Giant Thuja Arborvitae growth rate is 3 to 5 feet per year. It naturally keeps its pyramidal shape, so they rarely need pruning. Just make sure you have enough room for them. There's a reason why they are called green 'giant'. These arborvitae can get up to 60 feet tall and 20 feet wide.
They are native to North America. While they can handle most growing conditions, they will do best in moist, well drained soil with partial to full sun.
Plant Facts
| | |
| --- | --- |
| Botanical Name: | Thuja standishii x plicata |
| Average Height: | 25 – 30 feet |
| Average Width: | 8 – 10 feet |
| Sunlight: | Full to partial sun |
| Soil Conditions:: | Adaptable to moist soils |
| Growth rate: | 3 to 5 feet |
| Spacing: | 6 to 8 feet for privacy |
| Grow Zones: | 5 to 8 |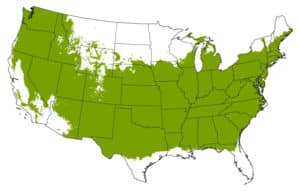 Thuja Green Giant Arborvitae Frequently Asked Questions:
How fast do Thuja Green Giants grow?
In ideal growing conditions, Green Giant's will grow 3 to 5 feet per year.
Are Thuja Green Giant Arborvitae deer proof?
While there are very, very few plants that can be considered deer 'proof', Green Giant Arborvitae are considered deer resistant. They are very low on the menu of almost all wild animals, including deer.
Will Thuja Green Giant grow in shade?
Yes, Green Giant's can grow in shade but not total shade. They do need some sunlight, even if it is considered dappled or filtered sunlight. Keep in mind that less sun will probably mean a slower growth rate.
How far apart do you plant Thuja Green Giant trees?
To create a thick privacy wall, plant Thuja Green Giant's in a row about 6 feet apart.
Top 20 nurseries ranked first to worst: Click here to see which nurseries we review and their latest rank.
About our price comparisons:
We strive to compare prices from online nurseries that we have experienced send the highest quality plants at the lowest prices. We worked for 4 of the top online nurseries for 12 years. We have also either visited (to evaluate) or ordered from over 30 nurseries & garden centers. Keep in mind that we may receive commissions when you click our links and make purchases. However, this does not impact our reviews, price comparisons or the price you pay. We try our best to keep things fair and balanced, in order to help you make the best choices.