Updated May 4, 2022

Jackson & Perkins Grade: 
C+
Overall Rating:

78
Top 20 Rank:

#11
Website:  www.jacksonandperkins.com
Location: Hodges, SC
Why do we list location? This is so you can know, in most cases, where the evergreen shrubs you buy are coming from. 
Breakdown of scores from each of the 10 factors we evaluate. You can read details on what each category means and how we score it here.
| | |
| --- | --- |
| Category | Rating |
| Years site Active | 9.5 |
| Prices | 7.5 |
| Return policy | 8.5 |
| Reviews | 7 |
| Warranty/Guarantee | 8 |
| Selection | 7.5 |
| Range of sizes | 7.5 |
| Ship Times | 8.5 |
| Ship Costs | 8.5 |
| Usability | 8.5 |
| Red flags | -3 |
| TOTAL SCORE | 78 |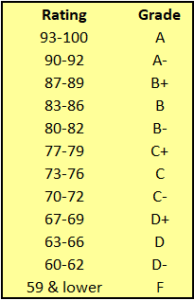 Jackson & Perkins Nursery Review
J&P Nursery rating came in at 78 for a C+ grade this month.  They are known more for their roses but do carry a decent selection of trees, shrubs & perennials then most people may realize. They also have some citrus trees in stock occasionally.
They also have a great looking website that is pretty easy to get around on. As we get into peak time for updating your landscape, they also have a lot more plants in-stock.
We bought a pre-decorated tabletop Christmas tree from Jackson and Perkins for the 2018 Holiday season.  Pictures of the unboxing and a full review are here; Jackson & Perkins Un-boxing. It's been in a container outside enjoying our mile climate and growing at an impressive rate. We had to transplant it into a larger container but brought it indoors for the holiday's. It was nice!
Jackson & Perkins was originally founded in 1872.  It has bounced around with different owners over the years.  It's current owner also runs Wayside Gardens (www.waysidegardens.com) and Park Seed (www.parkseed.com). 
JacksonandPerkins.com got pretty good scores for most items we review. I like how Jackson & Perkins clearly shows the size/height and they seem to have a good range of sizes from 1 quart to 3 gallon containers. They also clearly mark a product is out of stock, saving you some time when you're moving around the Jackson & Perkins site.
Their Guarantee is kind of long.  Boils down to a replacement or credit if you can prove you followed their planting & care instructions. Jackson & Perkins ship costs are in the middle of the pack.  Ship times are spelled out, which is good.  It's kind of long but  details justify the length.
What were the red flags?  
We deducted 3 points for the following reasons:
Not only could we not find many reviews on the product pages but they also have a miserable, 1.9 out of 5 rating with 1,237 reviews on Trust Pilot. You can read the reviews here.  That and there's A LOT of apologizing from Jackson & Perkins in their replies to customer reviews. Depends how you want to look at it.  It's a positive that they take the time to respond.
We could not find any Google customer reviews for Jackson & Perkins. That's unusual.
Search for Jackson & Perkins reviews on Google and the first question asks "Is Jackson and Perkins out of business?" That's not good.

Frequently Asked Questions
Where is Jackson & Perkins located?
Jackson & Perkins is located in Hodges, SC at 2 Floral Avenue.
Does Jackson & Perkins sell more than just roses?
Yes! Jackson & Perkins sells a wide variety of deciduous & evergreen trees and shrubs.
Can I place an order with Jackson & Perkins over the phone?
Yes. Call Jackson & Perkins at 1-800-292-7469
Does Jackson & Perkins offer a catalog?
Yes! Jackson & Perkins is one of the few remaining online nurseries that prints a catalog. You can request one by going to https://www.jacksonandperkins.com/catalogrequest.aspx
Disclaimer
All the information on this website – www.BuyEvergreenShrubs.com – is published in good faith and for general information purpose only. Buy Evergreen Shrubs does not make any warranties about the completeness, reliability and accuracy of this information. Any action you take upon the information you find on this website (Buy Evergreen Shrubs), is strictly at your own risk. Buy Evergreen Shrubs will not be liable for any losses and/or damages in connection with the use of our website.