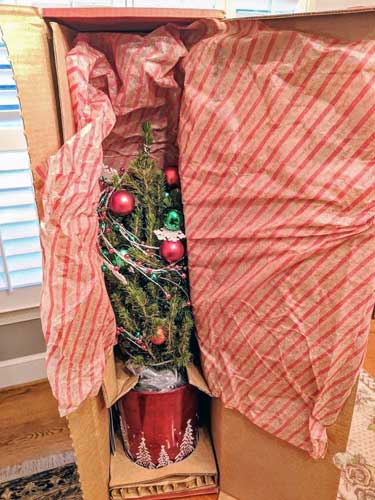 Our first delivery from Jackson & Perkins!
We bought a live spruce tree promoted as a decorated, tabletop 'Holiday Magic Tree' from Jackson & Perkins.  Our cost was $49.95 plus shipping. We were able to select a ship week & it showed up right on schedule.
Overall, very impressed.  A couple of minor things but I've bought worse live tabletop Christmas trees online from others for the same, if not higher prices.
Here's the picture from their product page & my attempt at re-arranging ornaments, etc.  I'm not quite the tree decorator, or photographer... it's a work in progress.
Super cool pull strip on the delivery box making it easy to open. No prying out industrial staples with a screwdriver!

The fulfillment folks put the shipping label on upside down, so the tree made its way to us upside down.

A tribute to their packaging, everything showed up just fine. There was a cardboard collar holding the container in place.

Tree in container was 26 inches tall. (picture with tape measure) 8 inch container, so an 18 inch tall tree. It's a dense, well branched tree. As the limbs settle down a bit, it will look even fuller.

a plastic pull tie bag over the pot that kept any dirt from making a mess.

Included 4, AA batteries for the string of lights.

Even the tissue paper was a nice touch, especially if sending as a gift.
Other than shipping upside down, the only other minor issue was no instructions. It may seem obvious how to water a small Christmas tree but this isn't in a tree stand & there are no drainage holes.  I don't want it to dry out but I also don't want it sitting in water in the bottom of the pot.
It would have been a nice touch to include planting directions after the Holidays, especially in colder climates where it may not be feasible to plant for a few months.
Shipping it upside down did not hurt anything and the care & planting is just something that would help.  Overall, I can see why this is one of their best Holiday sellers. 
Latest posts by Show me the green
(see all)