I ordered a 2 to 3 foot Meyer Lemon tree from Fast Growing Trees. At the time I ordered, Fast Growing Trees offered 7 different sizes for sale.
The tree was $54.95, they charged $19.95 shipping for a total of $74.90. They have offices located in the state I live in, so I was also charged state sales tax.
The entire process was smooth.  Their site is very well put together.
I ordered on a Thursday and received a shipping confirmation email the next day. The tree was delivered on Monday by the US Postal Service.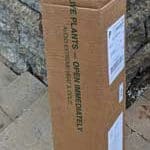 We've posted pictures below. The details printed on the box were impressive. Fragile, live plant. Keep on side, even telling me where to open the box. Only 4 of the dreaded industrial staples to pry out.
So, everything up to this point was good, until I opened the box.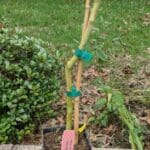 My Crooked Little Meyer Lemon Tree
It looks like they intentionally pruned off 2 major new branches toward each crooked part and numerous smaller branches going up the tree.  And this wasn't done recently. I don't know for sure, but it appears they intentionally kept just one trunk so that it would grow taller, faster. The less time & energy focused on new branch growth helps a tree grow taller, faster.
In other words, they can spend less time & money to get a tree taller, so they can charge you more.
And especially since I've been seeing the Fast Growing Trees video ad of the guy in their hoop house full of Meyer Lemon trees. It makes you want to believe you will get something sent so much better than what you actually end up with. At least that's our opinion.
Look how small the container is!
This is why I am always a bit hesitant when I don't see a container size listed with a tree height.
Once out of the box. the crooked tree couldn't stay up on its own. Here's the worst part. The tree was root-bound with dense roots tangled and packed into the tiny pot. This is not good, unless you loosen the roots up a bit, the roots could just keep circling around the plant, eventually choking it. That tree should have been transplanted into a larger container months ago. But that would become a larger, heavier container which would cost more to box and ship.
2 mature branches with light green leaves was all the foliage on the tree.  I have a Meyer Lemon tree and the leaves are dark green. I'm not sure why they are so light green, unless that just means it is a young tree. But, as advertised, the tree did top out in the 2 to 3 foot range. In fact, the top leaf came in at 40 inches high.
A heavily pruned, root-bound, crooked, 2-branched, 40 inch tall Meyer Lemon tree for $54.95 plus shipping.
We just bought a 2 to 3 foot Meyer Lemon tree from Four Winds Growers, a fast-growing-trees.com competitor for citrus trees.  The Meyer Lemon tree cost $45, or about $10 less then what was paid for the Meyer Lemon tree bought at fast-growing-trees.com. The shipping was more but Four Winds Growers is in California, Fast Growing Trees ships from Fort Mill, SC. Their fields are literally about 10 miles from my home. It makes sense that it would cost more to ship a tree across the country.
The tree just got delivered. We'll post a separate review with pictures unboxing the Meyer Lemon tree from Four Winds Growers but just look at this.
Here's the shocking difference in containers. I paid practically the same price for both. Ugh, I feel like a blockhead that bought the Charlie Brown of Meyer Lemon trees.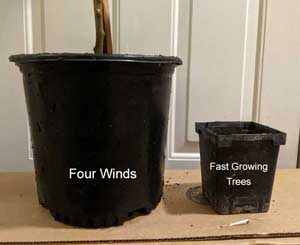 Fast Growing Trees Meyer Lemon Tree Unboxing Photo Gallery
Latest posts by Show me the green
(see all)