FastGrowingTrees.com – We Keep You Growing!
**This post contains affiliate links and we will be compensated if you make a purchase after clicking on our links. However, this does not impact our reviews, price comparisons or the price you pay. We try our best to keep things fair and balanced, in order to help you make the best choices.
FastGrowingTrees.com started humbly in 2009 as a family business selling one fast-growing tree. Fast forward to 2022 and FastGrowingTrees.com has grown to become the largest online nursery in the world. They are known for sending high quality plants delivered directly to your door in days. They are our top ranked online nursery.
FastGrowingTrees.com offers an amazing selection of trees, shrubs, roses, and much more. When we last checked, they even had 45 houseplants in stock, ready to ship to your door. We have bought from FastGrowingTrees.com 4 times and have received high quality products.
They also offer an extensive library of plant care guides, From how and when to water for different types of plants to pruning tips for evergreen shrubs.
Spring Has Sprung
With spring right around the corner, now is the time to decide what trees & shrubs you want and where to plant them. With that in mind, we want to help you focus on some of the most popular flowering trees and shrubs.
Anything edible has exploded in popularity for younger homeowners. We reveal a few of the most popular.
Lastly, privacy evergreens. You may have tolerated that nosy neighbor through winter because you didn't go out in the yard much. That's about to change. Now is the time to create a living privacy wall and turn your back yard into an outdoor oasis.
Most Popular Flowering Trees & Shrubs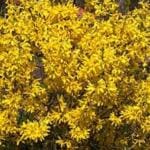 Lynwood Gold Forsythia – Bright yellow blooms announce the arrival of spring! It thrives is most of the US from Grow  Zones 4 through 8.
White Dogwood Tree – Iconic white blooms that appear every spring. These trees also product berries that birds will love and amazing fall color as the leaves turn a dark crimson.
Vanilla Strawberry Hydrangea Shrub – This paniculate variety is easy to grow with unique shades of blooms from red to pink to white.
Popular Home-Grown Fruit Trees & Shrubs
Everbearing Strawberry Shrub – FastGrowingTrees.com grow them organically so you can eliminate using pesticides on them. Large, juicy berries can be harvested for about two months straight!
Cold Hardy Avocado Tree – These trees can be grown indoors in colder climates through winter.
Brigjhtwell Blueberry Bushes – With possibly the biggest jump in sales since the pandemic began, blueberry shrubs in general have been hot sellers.  Blueberries are one of nature's super foods. Rich in antioxidant, low sodium, low sugar, high in Vitamin C and fiber.  Brightwell Blueberry shrubs can also make a nice hedge.
Privacy Evergreens
Nellie Stevens Holly – An annual bestseller. One of the fastest growing hollies. You won't find a better privacy screen at such a low price.
Thuja Green Giant – This Arborvitae have been a bestseller for at least 10 years. They grow 3 to 5 feet a year!
Full Speed A Hedge® American Pillar Arborvitae – Fast growing with a smaller footprint, They grow to just 4 feet wide at maturity. This makes them better suited for smaller areas than the Green Giant.
Just remember, these are all best-sellers, meaning they usually sell out faster than others.  We recommend you call FastGrowingTrees.com and talk to one of their plant specialists. Get your order in now! Your specialist can delay shipment until appropriate for the weather in your location.
Latest posts by Show me the green
(see all)