The Tree Center Grade: 
C+
Overall rating: 77
Top 20 Rank:
#12
Recommendation: Buy
Website:  www.thetreecenter.com
Location: Davidsonville, MD
Why do we list location? This is so you can know, in most cases, where the evergreen shrubs you buy are coming from. 
We evaluate and score 10 different categories. You can read details on what each category means and how we score it here.
The Tree Center Review
TheTreeCenter.com rating came in at 77 this month, which puts their grade at a C+.  They have been stuck with the same rating, grade, and rank for several months now.
Tree Center Makes More Changes
The Tree Center updated its logo, and slogan and made a few site upgrades late in 2020. Turns out they weren't done. They debuted a new color scheme and a pretty big change to the design & layout of many of the site elements in the fall of 2021. The colors are dark. Black and a kind of burnt orange. Then, they changed it again in 2022. We like their latest design and layout the best.
They also removed their latest slogan; "Lowest Prices Online Guaranteed! Show us a lower price and we'll match it!"
The slogan seems to be one of the casualties of their latest changes. That's not terribly surprising. They weren't offering price matches. That had to be problematic. At best, you would get a gift card. It was a bit cheesy, even for my marketing roots.
You can really tell it's a couple of men leading the charge, especially when their email sign-up at the bottom of the site references getting 6-pack abs?!?!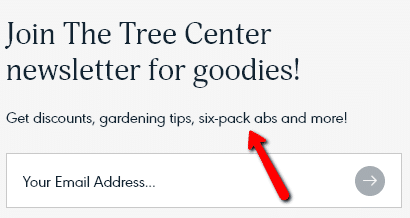 Some changes are smart. Others, in our opinion, not so much. Considering some of the recent tweaks, we're guessing they're realizing that not all the changes have helped. We also saw some pretty high prices. 
There's also an odd margin on the right side of the product pages that only scrolls part of the page.  It is a bit daunting.
If nothing else, they have always come across as very savvy marketing people. I'm sure they will get it all figured out and optimized but right now the site is less intuitive than before.
We finally placed an order on TheTreeCenter.com and it helped answer a few questions. You can view pictures of the unboxing and read our complete The Tree Center review of plants delivered here.
One of our biggest questions was whether The Tree Center shipped plants from their own field(s). At one point, they seemed to try to keep their location private. The address in their promotional emails & other communications listed a P.O. box as their address. The street view Google Maps shows seems to be a firehouse. We even tried to contact them once via email with no response.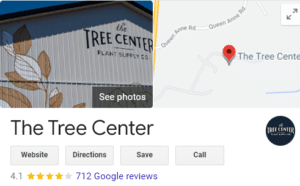 We just noticed recently that their Google Business Listing has a new address. From the view on Google Earth, looks like they are building out expansion on a nursery field.
When we last checked on October 1st, The Tree Center had 931 Google reviews with a 4.1 average rating. You can view Tree Center Google Reviews here. 
We ordered 2 bushes and 2 evergreen ground covers (Bowles Periwinkle). All 4 plants came from the same address in Maryland. In fact, they all came in one box. They were impressively packed, which we show & describe in our review. From searching the address on the shipping label, they do have their own field but it does appear to be someone's relatively large backyard.  
We traded a few emails with someone in customer service at The Tree Center after we took delivery, Their replies were prompt and they were very supportive.
We also traded a few emails with the owner in 2021. He comes across as a very genuine, sincere businessman who has a good knowledge of website marketing and plants.
Our opinion of The Tree Center has increased since we received good quality plants delivered in a timely manner from their own field. 
Dueling Arrive Alive Claims.
Fast Growing Trees & The Tree Center have very similar plant guarantees. '30 Day Alive & Thrive Guarantee' for fast-growing-trees.com and the Tree Center uses 'Arrive & Thrive Guarantee'.
Also similar to Fast Growing Trees, The Tree Center is now boasting next-business day shipping.
The Tree Center plant guarantee is spelled out in pretty simple language. The Tree Center Terms of Service, however, is still a beast.  One of the longest we have seen for an online nursery.
Like other online nurseries, The Tree Center offers an optional 1-year extended warranty for an extra cost. Everyone else we have seen charges 10% of the product cost.  The Tree Center charges 15%.  And, like all the others, you only qualify for a replacement. And, you have to pay for shipping to have the replacement sent to you. 15% is a lot. These extended warranties, in our opinion, are not worth the added cost.
Without the extended guarantee, there is a small 7-day window to return anything. You have to pay for shipping and products must be returned 'in the same condition in which we shipped the product'. Even then, all you get is a store credit.
The Tree Center seems to have a lot of inventory at decent prices.  They have a really good selection to choose from.
They are located in Maryland, if you're in the south and see something you want to order at the thetreecenter.com, I would call them first. Ask if they are shipping now or waiting until spring.
The Better Business Bureau has a LOT of complaints! The BBB lists a whopping 72 complaints. You can read The Tree Center BBB reviews here. They do use a third-party review service called Shopper Approved which has a lot of reviews. Over 10,000 total.  They have also made a push recently to add user content with a lot of specific product questions.
The Tree Center is a bit of an enigma for us. Despite some concerns, mostly around their obvious desire to remain anonymous, they do carry a good selection at decent prices.  We were impressed with our order including the way they pack & box their plants. 
What were the red flags?
Their Terms of Service are a beast!  One of the longest we've found.  
They offer a phone number to call in BUT it is only available for new orders.  You have to use their contact form for any existing order.  They may be great at promptly responding to customer service inquiries, it's just been our experience that there are some situations where you really need to speak to someone, not just trading emails.
Frequently Asked Questions


Where is The Tree Center located?
Their mailing address is a PO Box in Davidsonville, MD. Plants shipped have a different address in a neighboring town.
Does The Tree Center offer free shipping?
The Tree Center offers free shipping on all orders over $199. No coupon code is required.
Are The Tree Center and Garden Goods Direct related?
They're both located in the same general area. The owners are from the same family but the two nurseries do not work together. Just the opposite. Let's just say family gatherings are probably awkward if both owners are attending.
Does The Tree Center guaranty their plants?
They offer an "Arrive Alive Guaranty". The fine print says they will give you a 50% to 100% store credit depending on a few factors. They don't offer refunds.
Disclaimer
All the information on this website – www.BuyEvergreenShrubs.com – is published in good faith and for general information purpose only. Buy Evergreen Shrubs does not make any warranties about the completeness, reliability and accuracy of this information. Any action you take upon the information you find on this website (Buy Evergreen Shrubs), is strictly at your own risk. Buy Evergreen Shrubs will not be liable for any losses and/or damages in connection with the use of our website.
About the Author