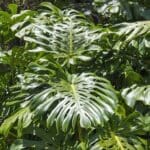 Philodendrons are some of the most popular houseplants because they are so easy to grow. The genus is a very diverse group of plants. There are vines, climbing, split-leaf, dwarf and more. 
Most Philodendrons available for sale online adapt well to average household conditions. Click on any product to view the lowest prices from our top rated online nurseries. 
Most Popular Philodendron Plants For Sale Online
(prices are updated daily)
Are philodendrons easy to grow?
The philodendron is a popular houseplant because they do not need much maintenance. They also don't have many pest problems.
How often should you water a Philodendron?
You want to let the soil dry out before watering. That usually means watering once every 2 weeks. You my need to do it more frequently in summer.
Do Philodendrons need a lot of sun?
Philodendron thrive with bright, indirect light. They will survive in low light conditions with the leaves turning a darker green. Just avoid direct sunlight because the leaves easily burn and dry up.
Are Philodendron toxic to dogs or cats?
Philodendron houseplants are extremely toxic for dogs and considered mildly toxic for cats.
Care and Grow Tips For Your Philodendron
Sunlight: All varieties prefer bright, indirect sunlight. Choose a place that is near a window but where the sun never actually touches the foliage. You can tell if they are getting too muich sunlight when the leaves start to turn yellow or dry up. To little sun will turn the leaves a darker green with long stems.
Either condition will quickly get fixed once you find the perfect position for your plant.
Watering: Allow the top 2 inches of soil to dry out between watering. The best way to know if it is dry is to stick your index finger into the soil about 2 inches to check moisture levels.
Unfortunately, leaf curl could mean too much or not enough water. Most people have a tendency to over-water. If the leaves start to droop, it needs a drink of water. Philodendron adapt pretty well & usually bounce right back.
Fertilizer: Feed them with a balanced organic liquid houseplant fertilizer. Water the plant with the fertilizer in spring and summer. Slow growth and small leaf size are the plant's way of telling you that it isn't getting enough food.
Soil: We recommend that you use a potting mix that is well-draining and high in organic matter. My Perfect Plants makes their own, organic potting soil. It is formulated for moisture control and breathability.
About our price comparisons:
We have either worked for, visited (to evaluate) or ordered from over 50 online garden centers. We strive to compare prices from online nurseries that we have experienced send the highest quality plants at the lowest prices.  Keep in mind that we may receive commissions when you click our links and make purchases. However, this does not impact our reviews, price comparisons or the price you pay. We try our best to keep things fair and balanced, in order to help you make the best choices.