Buy Arborvitae Trees Online
Arborvitae stands for tree of life. Arborvitae (thuja) evergreen trees are considered easy-care, tough and great for privacy. Some, like the Green Giant, are very fast-growing.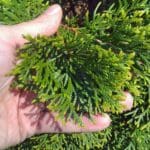 Arborvitae trees have soft, dense, deep green foliage which makes arborvitae trees great for wind breaks, privacy or any type of screen. They can easily be trimmed and maintained into formal hedge shape.
Growing Tips for Arborvitae Thuja Trees
Arborvitae trees are pretty tough.  They can tolerate many soil conditions from sandy to clay.  Just make sure the soil drains well.  They don't mind moist soil, just not 'wet feet' as it's referred to. Once established, they are drought tolerant.
Arborvitae thuja trees enjoy full sun but will also thrive to partial shade. Arborvitaes are cold tolerant and prefer colder temperatures. When planting in warmer regions, avoid locations that get too much afternoon sun in summer.
Most Popular Arborvitae (thuja) Trees
(prices are updated daily)
Arborvitae Tree Frequently Asked Questions


Are all arborvitae trees fast growing?
No! The Green Giant is one of a few Arborvitae (thuja) varieties that grow fast. Many grow at a moderate rate.
How tall do arborvitae trees get?
How tall an arborvitae tree gets depends n the variety. They vary from 15 to 30 feet tall.
What is the best arborvitae for privacy?
For most homeowners who don't have a lot of space, the Emerald Green Arborvitae or the Full Speed A Hedge® American Pillar Arborvitae are the best choices. They both don't get much wider than 4 to 5 feet, grow up to 10 to 12 feet and are pretty fast growing.
About our price comparisons:
For the past 12 years we have worked with 3 of the largest online plant nurseries. Cumulatively we have ordered, visited (to evaluate) or consulted with over 30 online garden centers. We strive to compare prices from online nurseries that we have experienced send the highest quality plants at the lowest prices.  Keep in mind that we may receive commissions when you click our links and make purchases. However, this does not impact our reviews, price comparisons or the price you pay. We try our best to keep things fair and balanced, in order to help you make the best choices.