Free Ship $125+


Free Ship $119+

Description
Cold Hardy Techny Arborvitae
Techny Arborvitae has soft, fragrant, dense foliage and is popular in the Great Lakes regions as a windbreak, snow-break, medium size hedge and for privacy. Techny is a super cold hardy thuja. It can withstand temperatures as low as -50 degrees fahrenheit. It is even considered drought tolerant once established.  Techny Arborvitae is low maintenance and adaptable.
| | |
| --- | --- |
| Botanical Name: | Thuja occidentalis 'Techny' |
| Average Height: | 10 – 15 feet |
| Average Width: | 3 – 5 feet |
| Sunlight: | Full to partial sun |
| Soil: | well drained |
| Growth rate: | moderate |
| Spacing: | 4 feet |
| Grow Zones: | 3 to 8 |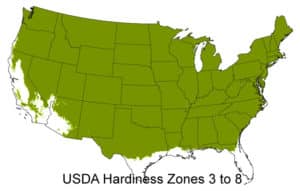 Frequently Asked Questions
How fast do Techny Arborvitae grow?
Growth rate is officially labeled as moderate. This means expect 1 to 2 feet of growth per year in ideal growing conditions.
How do you care for a Techny Arborvitae?
Arborvitae in general are known for being relatively maintenance free. The Techny prefers full to partial sun. Just be careful it doesn't get too much direct afternoon sun in summer. Fertilize once a year using a general tree fertilizer.
What is a Techny?
The name comes from the town Techny, Illinois where Mission Gardens first cloned a White Cedar, also known as American Arborvitae. Techny Tops out at 12 to 15 feet tall and 6 to 8 feet wide. This makes them great for homeowners who don't have a lot of space but want to create a living privacy fence.
About our price comparisons:
We have either worked for, visited (to evaluate) or ordered from over 50 online garden centers. We strive to compare prices from online nurseries that we have experienced send the highest quality plants at the lowest prices.  Keep in mind that we may receive commissions when you click our links and make purchases. However, this does not impact our reviews, price comparisons or the price you pay. We try our best to keep things fair and balanced, in order to help you make the best choices.