Free Ship $79+

Free Ship $119+

Free Ship $99+

Southern Magnolia for sale from top rated online plant nurseries. Prices are updated daily. Clicking 'Shop Now' button will open a new tab to the website listed.
Description
Huge White Fragrant Blooms
The Southern Magnolia tree is a classic flowering tree. Glossy green leaves with fragrant white blooms, Southern Magnolia trees are pretty easy to grow. Southern Magnolia can handle a variety of soil, moisture and sunlight conditions.
Growth rate for Southern Magnolia trees is considered medium, so expect 1 to 2 feet growth per year on average. Also make sure to give these beauties room to grow. They can get get up to 80 feet tall and 40 feet wide.
| | |
| --- | --- |
| Botanical Name | Magnolia grandiflora |
| Foliage | Glossy Green |
| Mature Height | 60 – 80 feet |
| Mature Spread | 35 – 40 feet |
| Soil Type | Widely adaptable |
| Sun Exposure | Full Sun, Partial Sun |
| Growth Rate | Medium |
| Grow Zones | 6 to 9 |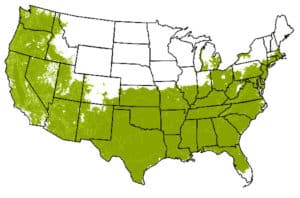 USDA Hardiness Zones 6 to 9