Description
Buy North Pole Arborvitae Online
Easy to Grow and Cold Hardy to Minus 30 Degrees!
A Proven Winners selection, Thuja North Pole is a unique Arborvitae with a narrow columnar shape. It is a slow grower with a mature height of 10 to 15 feet. It has thick foliage and It stays about 4 to 5 feet wide.
North Pole Arborvitae's are very cold hardy, up to grow zone 3, and are low maintenance. They rarely need pruning and are not as susceptible to winter bronzing as other thuja's. If you feel the need to prune, it is recommended to prune North Pole Arborvitae in the fall.
North Pole Thuja can provide a dramatic vertical presence almost anywhere in your yard. They are popular for corners of homes, flanking with side of a garage or driveway. They even look great in a more casual setting, such as containers. Spacing North Pole Arborvitae when planting for a privacy screen should be about 4 feet apart.  If you're looking for a narrow evergreen for privacy and want something that grows a little faster, consider the Emerald Green Arborvitae.
| | |
| --- | --- |
| Brand | Proven Winners ColorChoice |
| Botanical Name | Thuja occidentalis 'Art Boe' |
| Mature Height | 10 – 15 feet |
| Mature Spread | 4 – 5 feet |
| Soil Type | Widely Adaptable |
| Sun Exposure | Full Sun, Partial Sun |
| Growth Rate | Medium |
| Grow Zones | 3 to 7 |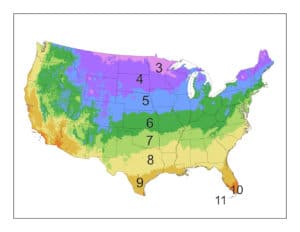 USDA Hardiness Zone Map
North Pole® Arborvitae for sale from our top-rated online plant nurseries. Prices & availability are updated daily. Clicking on a 'Shop Now' button will open a new tab to the website listed.
Frequently Asked Questions
How fast does the North Pole Arborvitae grow?
The North Pole Arborvitae is a moderate grower, it grows 12-18 inches a year.
How far apart should you plant North Pole Arborvitae?
The North Pole Arborvitae should be panted 5-7 feet apart. For a hedge 5 feet, 7 feet will allow sun to the entire tree.
Can you prune a North Pole Arborvitae?
You can, but carefully! Arborvitaes will not produce new growth on old bare branches. This means if you cut back to brown, bare branches it will stay that way. Only trim back one third of green foliage a season.
About our price comparisons:
We have either ordered, visited (to evaluate) or worked with for over 30 online garden centers. We strive to compare prices from online nurseries that we have experienced send the highest quality plants at the lowest prices.  Keep in mind that we may receive commissions when you click our links and make purchases. However, this does not impact our reviews, price comparisons or the price you pay. We try our best to keep things fair and balanced, in order to help you make the best choices.