Description
Buy Hicks Yew Online
A Popular Evergreen Hedge For Privacy
Hicks Yew has an upright growth habit and is popular as a privacy evergreen hedge. They can grow up to 20 feet tall and 8 to 12 feet wide.
Although Yews prefer part to full sun, it is one of the few evergreen hedges that tolerates shade.  This Yew is slow growing but that also makes it relatively low maintenance. It will handle heavy shearing and some people prune off the lower branches to form it into a multi-trunk evergreen tree.
Plant Facts:
| | |
| --- | --- |
| Mature Height | 12-20 ft. |
| Mature Width | 8-12 ft. |
| Sunlight | Full – Partial |
| Soil Conditions | Normal |
| Drought Tolerance | Fair |
| Botanical Name | Taxus x media 'Hicksii' |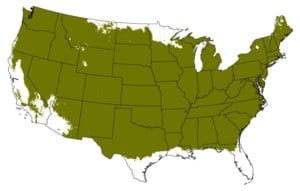 USDA Hardiness Zones 4 to 8
Frequently Asked Questions
How fast do Hicks Yew shrubs grow?
Hicks Yew is considered slow growing. Expect less than 1 foot of new growth per year.
How tall & wide do Hicks Yew get?
Hicks Yew can grow as tall as 15 to 20 feet and have a mature width of 8 to 12 feet.
How far apart do you plant Hicks Yew?
For a hedge, plant them roughly 6 feet apart measuring from the center of each planting hole.
About our price comparisons:
We have either worked for, visited (to evaluate) or ordered from over 50 online garden centers. We strive to compare prices from online nurseries that we have experienced send the highest quality plants at the lowest prices.  Keep in mind that we may receive commissions when you click our links and make purchases. However, this does not impact our reviews, price comparisons or the price you pay. We try our best to keep things fair and balanced, in order to help you make the best choices.