Free Ship $119+

Free Ship $130+

Berkman's Golden Arborvitae for sale from our top rated online nurseries. Prices are updated daily. Clicking on a 'Shop Now' button will open a new tab to the website listed.
Description
Berkman's Golden Arborvitae are great to use as a hedge or border plantings. You'll also see Golden Arborvitae planted a lot as foundation plants, especially on either side of a garage or entryway. Arborvitae Berkman's Golden would also look good in small groupings of 3 or 5.  One or 2 in containers around a patio or front porch would also make a great look. Just be careful where you position your containers. Berkman's Gold prefer full sun but can handle some shade.
| | |
| --- | --- |
| Botanical Name: | thuja occidentalis |
| Average Height: | 5 – 6 feet |
| Average Width: | 3 – 4 feet |
| Spacing: | 4 to 6 feet |
| Sunshine: | Full Sun or Mostly Sun, Morning Sun with Dappled or Afternoon Shade, Morning Shade with Evening Sun |
| Water needs: | Low once establisged |
| Soil type: | Clay, Loam, Sand, Silt |
| Soil conditions: | Well Drained Moist, Well Drained Dry, Not Constantly Soggy |
| Grow Zones: | 6 to 9 |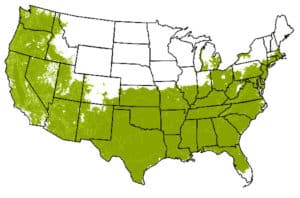 USDA Hardiness Zones 6 – 9
NOTE: We bought a Berkman's Golden Arborvitae 1-gallon container size from Wilson Bros Gardens. You can view pictures and read our complete review here.
Berkman's Golden Arborvitae Frequently Asked Questions
Is this a fast growing Arborvitae?
No, Berkman's Golden is considered a slow growing arborvitae. Expect less than 6 inches of new growth per year.
How big does Berkman's Golden Arborvitae get?
They can grow up to 6 feet tall and 3 to 4 feet wide.
Does Berkman's Golden Arborvitae prefer sunny or shady areas?
They grow the best in mostly sunny areas. In warmer climates, it is best to shield it from the heat of late afternoon summer sun.