Description
Filip's Magic Moment Thuja, from Proven Winners, is a unique evergreen shrub that keeps a natural conical shape. New growth starts out yellow and ages into a rich green. The thick, soft foliage and unique coloring will make this stand out in any yard. They look great in containers. If using a container, make sure to buy a planter big enough to handle the roots system when full grown. This will require a planter with a width of approximately 48 inches.
Filip's Magic Moment is a slow grower; it's growth rate is about 12 inches a year. Although it can handle many soil conditions, Filip's Magic Moment will grow the fastest in a rich, well drained soil.
Thuja Filip's Magic Moment is easy to care for. It is considered drought tolerant once established. Filip's Magic Moment has no know disease or pest problems. It is considered deer resistant but not deer proof. It will keep its natural conical shape, pruning is rarely needed. If you do want to prune your Filip's Magic Moment, doing so in fall is recommended.
USDA Hardiness Zones: 3-7
Foliage Color(s): Green, Yellow
Exposure: Part Sun to Sun
Height: 6-8 Feet
Spread: 1-3 Feet
Spacing: 2-4 Feet
Habit: Upright
Watering: Average
Botanical Name: Thuja occidentalis USPP 21,974
Common Name: Filips Magic Moment Arborvitae
Brand: Proven Winners®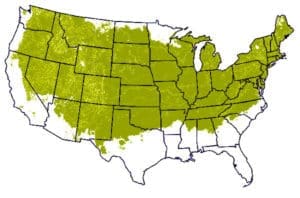 USDA Hardiness Zones 3 to 7