Description
Woodward Globe Arborvitae Has Soft, Dense Foliage That Keeps Its Shape
Woodward Globe Arborvitae mature height at 3 to 5 feet has made this evergreen shrub popular with landscapers to use as a medium height hedge.  Woodward Arborvitae shrubs gives you another choice for a naturally rounded, dwarf arborvitae.
The foliage is  a dense & rich green making them a striking foundation plant.  Like other arborvitae shrubs, Woodward Globe prefers full sun but can deal with part shade. It maintains its rounded shape, making it easy to take care of. Woodwardii Globe Arborvitae pruning is rarely needed. If you do need to prune, it is best to do it winter. It's texture is soft, like all Thuja's but the foliage is slightly more fine-textured.
| | |
| --- | --- |
| Botanical Name: | Thuja occidentalis 'Woodwardii' |
| Average Height: | 3 – 5 feet |
| Average Width: | 3 – 5 feet |
| Sunlight: | full sun, partial sun |
| Growth Rate: | Medium |
| Grow Zones: | 3 to 7 |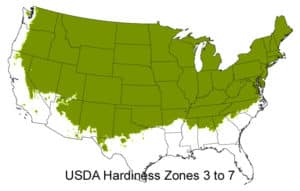 Woodward Globe Arborvitae Frequently Asked Questions
How big do Woodward Globe Arborvitae get?
Woodward Globe Arborvitae get 3 to 5 feet tall and wide.
Are Woodward Globe Arborvitae fast-growing?
No. Woodward Globe are slow growing with about 6 inches of new growth per year.
How do I prune a globe Arborvitae
Woodward, as most naturally globe shaped arborvitae, do not require severe pruning. Just some minor pruning helps stimulate new growth and gives the shrub a more ornamental shape.
About our price comparisons:
We have either worked for, visited (to evaluate) or ordered from over 50 online garden centers. We strive to compare prices from online nurseries that we have experienced send the highest quality plants at the lowest prices.  Keep in mind that we may receive commissions when you click our links and make purchases. However, this does not impact our reviews, price comparisons or the price you pay. We try our best to keep things fair and balanced, in order to help you make the best choices.