Free Ship $129+

Free Ship $129+

Free Ship $130+

Free Ship $99+

Sky Pencil Holly for sale online from our top rated nurseries. Prices are updated daily. Clicking on a 'Shop Now' button will open a new tab to the website listed.
Description
Buy Sky Pencil Holly Online
This Columnar Holly is Great for Smaller Spaces
Sky Pencil Holly, ilex crenata 'Sky Pencil', is a narrow, columnar holly that grows just 2 to 3 feet wide and up to 8 feet tall.  Sky Pencil can handle pruning to keep it at a lower height if desired. It is one of a few plants with branches that grow upward.
Sky Pencil Holly makes a great hedge or screen in places where you don't have as much room for a larger holly, such as the Nellie Stevens. It can add height to the edges of foundation plantings or as a border to create a living fence. They can also add a touch of drama & elegance in a container near your entryway or on either side of a garage. Used often by professional landscapers and realtors to add curb appeal and value to a home.
The growth rate for the Sky Pencil Holly is slow to medium. Expect between 6 to 8 inches of new growth a year.  They prefer well-drained soil and can tolerate full to part sun.
Sky Pencil Holly Plant Facts
| | |
| --- | --- |
| Mature Height | 8-10 ft. or cut to desired |
| Mature Width | 2 ft. |
| Sunlight | Full – Partial |
| Soil Conditions | Adaptable |
| Drought Tolerance | Good |
| Botanical Name | ilex crenata 'Sky Pencil' |
| Grow Zones | 5 to 9 |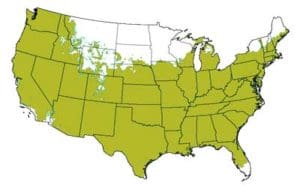 USDA Hardiness Zones 5 to 9
Sky Pencil Holly Frequently Asked Questions
How far apart should Sky Pencil Holly be planted?
If you want to use them to create a hedge, plant them about 24 inches apart from the center of each planting hole.
Is Sky Pencil a Japanese Holly?
Yes. Like most Japanese Holly varieties, Sky Pencil has an upward growth habit. The female produce black, not the more well known red holly berries.
Will deer eat Sky Pencil Holly?
Sky Pencil Holly shrubs are deer resistant, not deer proof. If hungry enough they may try to nibble on the leaves.
About our price comparisons:
We have either worked for, visited (to evaluate), or ordered from over 30 online garden centers. We strive to compare prices from online nurseries that we have experienced and send the highest quality plants at the lowest prices.  Keep in mind that we may receive commissions when you click our links and make purchases. However, this does not impact our reviews, price comparisons, or the price you pay. We try our best to keep things fair and balanced, in order to help you make the best choices.