Free Ship $125+

Free Ship $130+

Description
DeGroots Spire is a Dense, Upright Arborvitae That is Cold Hardy to -40 Degrees!
DeGroots Spire is an eastern Arborvitae that is popular for it dense foliage and narrow, columnar shape. They are also know to be long lived. Arborvitae Degroot's Spire have no known pest issues and are comfortable with cold winters and scorching summer heat.
Because it is so narrow, DeGroots Spire Arborvitae does well wherever you want year round color but not the huge footprint other evergreen trees take up. Growth rate is considered slow, roughly 6 to 10 inches a year
| | |
| --- | --- |
| Botanical Name | Thuja occidentalis 'Degroot's Spire' |
| Average Height | 18 to 20 ft. |
| Average Width | 4-5 ft. |
| Sun | Full Sun |
| Foliage | Dark Green |
| Growth Habit | Dense upright and conical |
| Soil Conditions | Grow best in well-drained soils. |
| Grow Zones | 3 to 8 |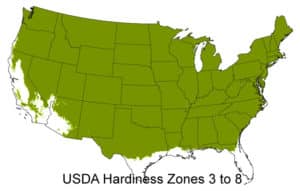 DeGroots Spire Arborvitae Frequently Asked Questions
Are DeGroots Spire fast-growing?
Growth rate for these Arborvitae are considered slow. Yu can expect roughly 6 to 10 inches a year.
How big do DeGroots Spire Arborvitae get?
DeGroots Spire will get up to 20 feet wide and 4 to 5 feet wide.
Are DeGroots Spire deer resistant?
As is the case with most Arborvitae, DeGroots is deer resistant. hat does not mean deer proof. Although not at the top of their menu preferences, if hungry enough deer could munch on the foliage.
About our price comparisons:
We have either worked for, visited (to evaluate) or ordered from over 50 online garden centers. We strive to compare prices from online nurseries that we have experienced send the highest quality plants at the lowest prices.  Keep in mind that we may receive commissions when you click our links and make purchases. However, this does not impact our reviews, price comparisons or the price you pay. We try our best to keep things fair and balanced, in order to help you make the best choices.