Free Ship $129+

Free Ship $130+

Description
Shop American Arborvitae Online
American Arborvitae Are Tall & Slender Evergreen Trees
American Arborvitae, also referred to as American Pillar Arborvitae, is popular for homeowners who want tall, narrow evergreen tree. American Thuja trees only get 3 to 5 feet wide and can grow as tall as 30 feet.
This cold hardy evergreen tree is an ultra-adaptable evergreen conifer that grows in most conditions and looks terrific year-round. It rarely, if ever needs pruning. This is an American native with all of the benefits if you're looking for a privacy screen, windbreak, or back-of-the-border standout!
Rated up to grow zone 3, American 'thuja' Arborvitae is extremely cold tolerant and can handle heavy snow. It also deals well with lots of sun in southern areas down to grow zone 7.
It has a moderate growth rate. In proper planting conditions, you can expect 2 to 3 feet of new growth per year. It solves the problem of both waiting forever for an evergreen hedge to fill in AND taking up too much space in your (and your neighbors') yard once it does.
Plant American Arborvitaes with their centers 2.5' apart. Once established, they will fill in nicely to create a natural, lush green privacy fence.
Plant Facts
| | |
| --- | --- |
| Mature Height: | 25-30 ft. |
| Mature Width: | 3-5 ft. |
| Sunlight: | Full Sun |
| Growth Rate: | Moderate |
| Botanical Name: | Thuja occidentalis |
| Grows Well In Zones: | 3 – 7 |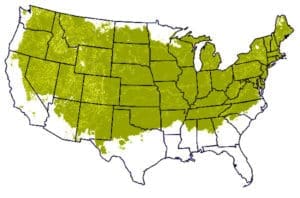 USDA Hardiness Zones 3 through 7
Frequently Asked Questions
How fast do American Arborvitae grow?
American Arborvitae do not grow as fast as their popular sibling, Green Giant. Expect roughly 2 feet of new growth per year.
How far apart should I plant American Arborvitae?
If your goal is to create a lush, green privacy fence, plant American Arborvitae roughly 2 1/2 feet apart measuring from the center of your planting hole.
Can Arborvitae tolerate shady areas?
Arborvitae do best when they get at least 6 hours of sun a day. They will tolerate shady areas, just don't expect them to grow as fast.
Check out all our Arborvitae trees for sale from top rated online nurseries!
About our price comparisons:
We have either worked for, visited (to evaluate) or ordered from over 50 online garden centers. We strive to compare prices from online nurseries that we have experienced send the highest quality plants at the lowest prices.  Keep in mind that we may receive commissions when you click our links and make purchases. However, this does not impact our reviews, price comparisons or the price you pay. We try our best to keep things fair and balanced, in order to help you make the best choices.