Musa Basjoo Banana, also known as a cold hardy banana, prices from our top rated online nurseries. Lowest prices are updated daily. Clicking on a 'shop now' button will open a new tab to that nurseries website.
Description
Fast Growing, Cold Hardy Banana Tree
Musa Basjoo Banana trees are the most cold hardy banana plant in the world. It is rated for surviving temperatures as low as -10 degrees. Just make sure to mulch well around the plants if temperatures regularly dip below zero. Basjoo Banana's are referred to as a tree by many online nurseries but in fact, are a perennial. They will start turning brown (like an over-ripe banana) after a hard freeze. Just cut them down to the ground, don't let them rot away. These banana plants will take off at the first signs of spring and are very fast growing. Some folks in northern climates will grow these in a container and bring them indoors as a house plant for winter.
Basjoo Banana plants have huge, bright green leaves and are pretty easy to grow. You can always tell if they need water because their leaves start drooping. They have shallow root systems so they can handle just about any soil conditions as long as they drain well. Deer and other critters leave it alone. Japanese beetles are one of few insects that may get attracted to the leaves.
Similar to some other perennials, Musa Basjoo Banana plants sucker out. You will see 1 to 3 new little banana plants growing up right beside your primary plant. Dividing the plants is easy and recommended after the new  emerging plants get a couple of feet tall.
| | |
| --- | --- |
| Botanical Name: | Musa 'Basjoo' |
| Average Height: | 10 – 15 feet |
| Average Width: | 10 – 15 feet |
| Sunlight: | Full sun, Part sun |
| Growth rate: | 10+ feet |
| Spacing: | 5 – 6 feet |
| Grow Zones: | 5 to 11 |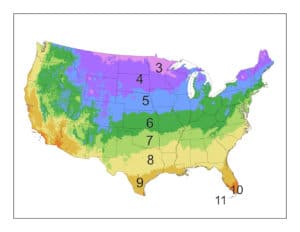 USDA Hardiness Grow Zone Map
How much cold can Musa Basjoo Banana trees tolerate?
They are rated for grow zone 5 and can withstand temperatures as low as -10 fahrenheit. Keep in mind that these plants are considered perennials. While they will survive cold temps Musa Basjoo Banana's will die back to the ground after the first hard freeze. They bounce back and grow very fast as soon as warmer weather hits after winter.
How to care for Musa Basjoo banana plants
Musa Basjoo banana's are incredibly easy to grow. They can handle most soil & sun conditions. They prefer full sun but not too much late afternoon summer sun. They can also handle mostly shady areas. If you get a hard freeze, the plants will turn brown, almost like an over-ripe banana. They need to be pruned back to within a few inches of the ground. Don't worry, they will bounce back & get even higher starting with the first warm day at the end of winter.
Compare Musa Basjoo Banana Tree Best Prices | Home Delivery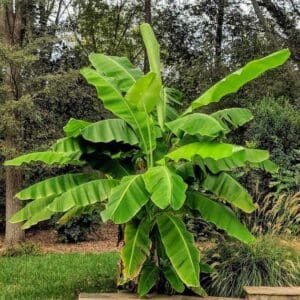 Shop the lowest prices on Musa Basjoo banana trees for sale from top rated online nurseries. Why pay more? Compare prices and save!
Product SKU: 1493