Fire Chief Arborvitae for sale online from our top rated plant nurseries. Prices are updated daily. Clicking on a 'Shop Now' button will open a new tab to the website listed.
Description
Fire Chief Arborvitae For Sale Online
Hardy Arborvitae Evergreen Shrub With Unique Foliage
Fire Chief Arborvitae features dense, bright gold foliage that changes to a stunning deep red in fall. As with most Arborvitae shrubs, Fire Chief's growth rate is slow. Plant your Fire Chief shrubs where they can get plenty of sun.  They prefer full sun but can handle some shade. Fire Chief rarely needs any pruning. It keeps the natural globe shape with minimal pruning. If you do want to tidy it up, pruning for the Fire Chief is recommended in late spring.
Fire Chief Arborvitae shrubs are used for mass plantings, as a garden border, rock, or woodland garden. They also look great in containers.
Fire Chief Arborvitae Plant Facts:
| | |
| --- | --- |
| Botanical name: | Thuja occidentalis 'Congabe' Plant Patent #19,009 |
| Average height: | 3 to 4 feet |
| Average width: | 3 to 4 feet |
| Sunlight: | Full Sun to partial shade |
| Growth habit: | Densely branched, Mounding |
| Foliage: | Bright Gold changing to Deep Red |
| When to prune: | Prune in late spring to maintain shape |
| Soil condition: | Any well drained soil |
| Grow Zones: | 5 to 8 |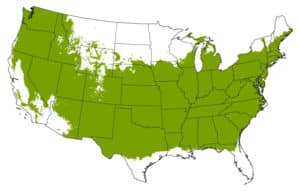 USDA Hardiness Grow Zone 5 to 8
Frequently Asked Questions
How and when can you trim fire chief arborvitae shrubs?
Fire Chief arborvitae are known for needing very little maintenance. If you do want to lightly trim them to keep their shape, it's best to trim in the late spring. Do not prune them in fall or winter.
How tall does a fire chief arborvitae get?
Their average height and width is 3 to 4 feet.
About our price comparisons:
We have either worked for, visited (to evaluate), or ordered from over 50 online garden centers. We strive to compare prices from online nurseries that we have experienced and send the highest quality plants at the lowest prices.  Keep in mind that we may receive commissions when you click our links and make purchases. However, this does not impact our reviews, price comparisons, or the price you pay. We try our best to keep things fair and balanced, in order to help you make the best choices.