Steeds Holly for sale from top rated online plant nurseries. Prices are updated daily. Clicking on a 'Shop Now' button will open a new tab to the website listed.
Description
Buy Steeds Holly Online
This is The Perfect Evergreen for Privacy
Steeds is the Holly shrub professional landscapers prefer with homeowners looking for privacy. They plant it a lot more than the popular Nellie Stevens Holly because it takes up about half the space in your yard.  Steeds is a Japanese Holly, similar to a Sky Pencil Holly except it is a little taller, wider, and has a more pyramidal growth habit. Since it is a Japanese Holly, Steeds will not produce red berries. They produce familiar, small, white flowers in spring but the berries are black. Neither the flowers or berries are very noticeable.
Steeds Holly shrubs prefer full to partial sun and their growth rate is about 6 to 12 inches a year. Steeds Holly is pretty adaptable for soil conditions as long as it drains well. Steeds Holly is well known for not having a lot of problems. They are disease resistant, have few insect problems and deer tend to leave them alone. The only problem for Steeds and most Holly shrubs is when they are pruned when it is wet. The exposed cuts are known to easily get a fungus that can spread fast. Don't prune if there is dew in the morning or recent rains where the foliage is still wet. 
Steeds Holly makes a great medium size hedge or privacy wall.  They can easily be pruned to keep at a height around 6 feet tall and wide. It's also used as an accent at the end of a foundation to create some height without being too large. They can be used in containers but the container needs to be brought indoors if it gets cold enough for the soil and moisture in the container to freeze.
Steeds Holly Plant Facts:
| | |
| --- | --- |
| Botanical Name: | Ilex crenata 'Steeds' |
| Average Height: | 6 – 8 feet |
| Average Width: | 4 – 5 feet |
| Sunlight: | Full sun, Partial sun |
| Drought Tolerance: | Good, once established |
| Growth Rate: | 6 to 12 inches a year |
| Pruning Time: | Prune anytime in the year |
| Grow Zones: | 5 to 9 |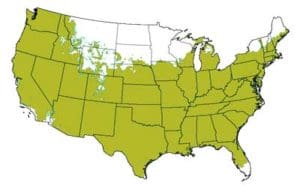 USDA Hardiness Grow Zones 5 to 9
Frequently Asked Questions
Can the Steeds Holly be planted in shade?
Although adaptable to some shade, the Steeds Holly is a sun lover that will do better in full to partial sun.
Is the Steeds Holly deer resistant?
Yes. The beautiful Steeds Holly is deer resistant, drought resistant, and disease resistant!
Is the Steeds Holly an evergreen?
Yes, the Steeds Holly is an evergreen that keeps its attractive green foliage year-round.
About our price comparisons:
We have either worked for, visited (to evaluate) or ordered from over 50 online garden centers. We strive to compare prices from online nurseries that we have experienced send the highest quality plants at the lowest prices.  Keep in mind that we may receive commissions when you click our links and make purchases. However, this does not impact our reviews, price comparisons or the price you pay. We try our best to keep things fair and balanced, in order to help you make the best choices.
Compare Steeds Holly Best Prices | BuyEvergreenShrubs.com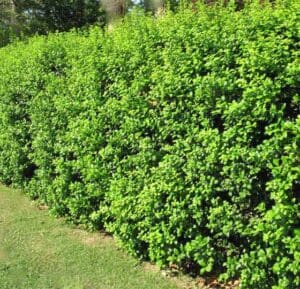 Get the lowest prices for Steeds Holly and hundreds of other evergreen shrubs for sale from top rated online nurseries. Why pay more?
Product SKU: 1250