Free Ship $125+

Free Ship $130+

Free Ship $99+

Description
Forever Goldie Arborvitae is Fast Growing with Dense Foliage
Forever Goldie, also spelled Goldy, Arborvitae is popular as a hedge and privacy screen. Forever Goldie has unique yellow coloring, making it a standout in an landscape. Forever Goldie is considered an arborvitae tree but can be pruned into a thick, lush privacy hedge anywhere from 6 to 10 feet tall.
They can handle wetter soils as long as it is not standing water. That would cause the roots to rot.
| | |
| --- | --- |
| Botanical Name: | Thuja plicata '4EVER |
| Mature Height: | 10 to 12 ft |
| Mature Width: | 3 to 4 ft |
| Sunlight: | Full Sun |
| Foliage: | Golden Yellow |
| Growth Form: | Dense upright and conical |
| Soil Conditions: | Grow best in average, medium moisture, well-drained soils. Avoid extremely dry soil. |
| Water Requirements: | Water frequently until established. May need daily watering during extended dry periods, especially in summer. |
| Grow Zones: | 5 to 8 |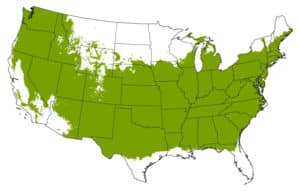 USDA Hardiness Zones 5 to 8
Forever Goldie Frequently Asked Questions
How fast does Forever Goldie Arborvitae grow?
It is considered fast growing. You can expect up to 12 inches of new growth per year.
How tall do Forever Goldie Arborvitae get?
Forever Goldie Arborvitae will grow 10 to 12 feet tall and 3 to 4 feet wide.
Is Forever Goldie good to use for a hedge?
Forever Goldie Arborvitae have dense foliage, making them great for using as a hedge. They can handle pruning if want to keep them at a height around 6 feet.
Is Forever Goldie Arborvtae deer resistant?
Like most arborvitae, Forever Goldie is deer resistant. Keep in mind that does not mean deer proof. If hungry enough deer might nibble on the foliage.
Forever Goldie Arborvitae prices from our top rated online nurseries are updated daily.
About our price comparisons:
We have either worked for, visited (to evaluate) or ordered from over 50 online garden centers. We strive to compare prices from online nurseries that we have experienced send the highest quality plants at the lowest prices.  Keep in mind that we may receive commissions when you click our links and make purchases. However, this does not impact our reviews, price comparisons or the price you pay. We try our best to keep things fair and balanced, in order to help you make the best choices.