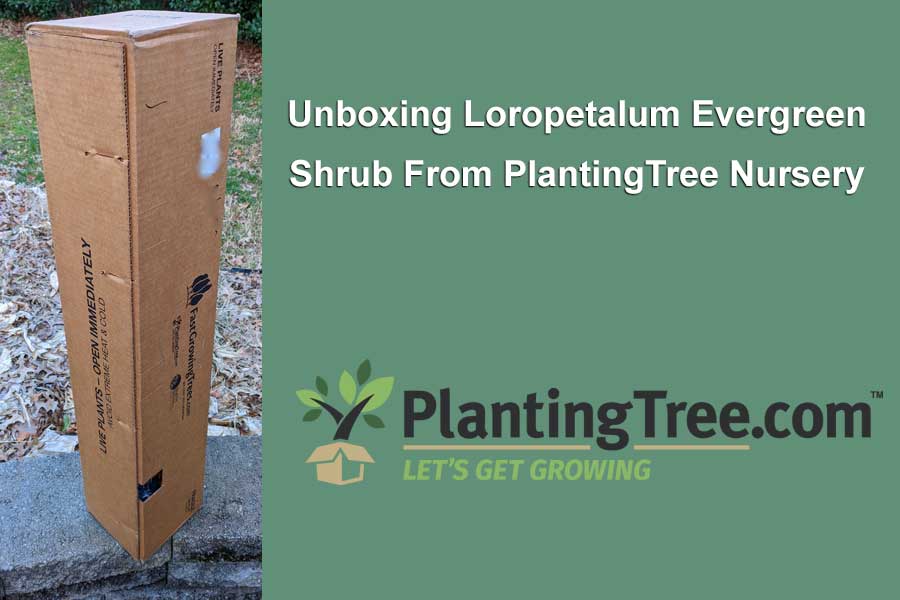 Unboxing From PlantingTree Nursery
A 13 Inch Plant in a 36 Inch Tall Box?
Our first order of the new year! Considering we're in the North Carolina Piedmont area, taking delivery can be risky. It's already snowed 3 times in January with temps getting into the teens. But, 3 of the larger online plant nurseries are in the Charlotte, NC metro and shipping to my area.
We're zone 7b or 8a depending who you ask, not to mention that the plant we ordered would be from fields that are a 10-minute drive away.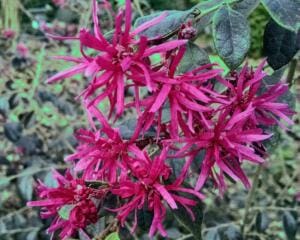 There's a pretty big blank spot in one back corner of our yard.  The goal was a fast-growing evergreen shrub.
There's a lot of options to choose from. We decided on Loropetalum because of the unique foliage and blooms. We bought a 1-gallon Ruby Loropetalum from Planting Tree. Loropetalum are also referred to as Chinese Fringe Flower for the dainty blooms.
Ruby Loropetalum are fast-growing and get up to 6 feet tall and wide. Perfect for a hedge or as a unique evergreen to fill in a bare spot.
We actually need 2 plants, so we ordered a second Loropetalum from one of our other top ranked nurseries, Perfect Plants. This will give us a good chance to compare.  We'll update the post once we have pictures from both nurseries.
Problems Checking Out
Shopping on PlantingTree.com was super easy. The site is easy to navigate.  Checking out, however, was a problem. We couldn't get the cart page to load. We checked in with someone at Planting Tree wo said it was a known issue for people using Chrome. Yikes! I opened up a different browser and was able to use one of their expedited checkout options with no problems.
Chrome Update February 5th.  We cleared out our browser of all data, cookies, etc. and tried again to add a product and then go to the cart page on our laptop, using Chrome. The issue still exists. Our cart page contents would not load. That can't be helping sales.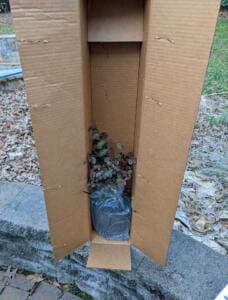 We paid $29.95 for the 1-gallon Loropetalum and $14.95 for shipping.  We ordered on Wednesday, January 26th and the plant arrived on January 31st. It was a 3 foot tall box! We reported last year that the owners of Fast Growing Trees and Brighter Blooms bought PlantingTree. Having all 3 logo's on the box kind of confirmed our story.
We were worried there would be a lot of those heavy-duty industrial staples to pry out. Turned out there was only 4.
Root System is Critical
Keep in mind this is the end of January but it appeared the root system wasn't well established.  To our surprise, when we pulled it out of the container there were roots established all the way to the edge of the soil. Having a good root system is critical when putting in any new plants. Also planting early enough so it can focus on growth below the ground. Even though it's an evergreen it still goes dormant in winter.
There was also some minor cosmetic damage from frost burn. We had some nights that went into the low 20's. Again, nothing major. The plant was in good health.
We gave it some fresh air, a good drink of water and planted it a few days later. Overall, we were satisfied.
Unboxing PlantingTree Gallery
Top 25 nurseries ranked first to worst: Click here to see which nurseries we review and their latest rank.

Latest posts by Show me the green
(see all)